Research data suggests that medical imaging technologies will play a key role in the future of medical diagnostics and therapeutics. Especially, developing economies are expected to lead the demand for medical imaging technologies for efficient treatment and diagnostics of diseases. As technological advancements facilitate a rapidly changing medical practice landscape, miniaturization & equipment portability, digitized values for measurements, and hybrid nuclear imaging equipment will gather traction and grow significantly in the coming years. Nuclear medicine is an advanced branch of medicine that employs radiation to diagnose diseases, access functioning of specific organs, or helps treat a particular disease. Approximately 10,000 hospitals and healthcare facilities have been anticipated to employ radioisotopes in medicine, out of which, 90% are employed for diagnosis.
Global nuclear medicine equipment market, by region, 2015 (USD Million)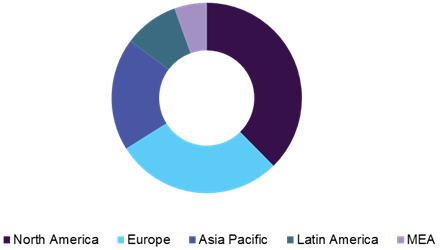 In the course of years, nuclear medicine equipment market has observed countless product launches in the form of radioisotopes and other advancements. Thallium–201(Tl-201), gallium–67 (Ga-67), and iodine-123 (I-123) are the most common isotopes used in nuclear medicine. The most common radioisotope employed in diagnostic procedures is the technetium-99. A total of 35 million procedures are performed per year using the isotope, accounting for about 80% of all nuclear medicine procedures worldwide. Although large doses of radiations can be harmful, in case of radiopharmaceuticals, nuclear medicine physicians are cautious while selecting the doses. Thus, these doses do not pose any demonstrable health threat and are expected to achieve accurate imaging results, which have high levels of clarity. Technological advancements have facilitated better treatment & diagnosis and transformed nuclear medicine procedures. Development of new and advanced radiotracers and the rising incidence and prevalence of chronic diseases are the key factors driving the growth of the global nuclear medicine equipment market.
The U.S. is expected to account for the largest share of the North American nuclear medicine market. The large share and high market development in the U.S. can be attributed to the growth of nuclear cardiology, which has registered a growth rate of approximately 64% since 1999. Asia Pacific region is expected to generate high growth and is expected to become the fastest growing market in the coming years. In addition, the rising prevalence of cancer, cardiovascular diseases, and neurological disorders coupled with a rising awareness pertaining to early diagnosis of diseases is expected to contribute to the growth of the market.
Some of the key players in this industry include DDD-Diagnostics A/S; Digirad Corporation; GE Healthcare; Philips Healthcare, Siemens Healthineers; and Toshiba Medical Systems Corporation. Building a robust product pipeline through extensive R&D coupled with expansion & penetration opportunities in emerging economies are expected to act as profitable opportunities for the market.

In-depth report on global nuclear medicine equipment market by Grand View Research:
http://www.grandviewresearch.com/industry-analysis/nuclear-medicine-equipment-market