Compressed air is increasingly becoming intolerant to air contamination in numerous applications that require clean air, and is a key factor expected to drive the oil free air compressor market growth over the forecast period. Several companies that started out with oil filled air compressors in the market are now inclined towards the adoption of standardized oil free air compressors.
Global oil free air compressor market by product, 2015 (USD Million)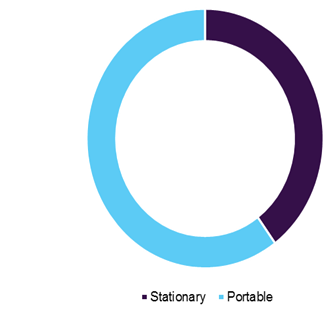 Companies that initially used oil filled compressors failed to realize system contamination, since it accumulated gradually over a period of time. In a few cases these incidences were reported within a year, while in some other over a period of five years. These oil filled products are known to cause air contamination, thereby leading to negative impact on the production and added to the cost of replacing an equipment. Further, product recall owing to the damage caused by compressor lubricant is a high price to pay in terms company reputation as well as dollars. All these factors are anticipated to impact the oil free air compressor demand positively over the forecast period.
Food, electronic and pharmaceutical product manufacturers work towards complying with the criteria for high air purity in order to remain competitive. Therefore, provision of clean air in achieving a clean work space is essential, which is subsequently expected to drive the oil free air compressor market growth over the forecast period.
Analyst Perspective
Compressed air is a source of energy that supports various manufacturing processes, and is a very high cost component. However, improving the efficiency of an existing system provides large savings opportunity, thereby making adoption of oil free air compressors important.
Compressed air is used in many facets of the manufacturing industry, and is vital for a plant operation, which makes the adoption of air compressors necessary. With all the aspects of the business moving at a rapid pace in adopting latest technologies air compressor manufacturers are driving their business by adopting ultra-modern technologies to beat competition and achieve environmental sustainability.

In-depth report on global oil free air compressor market by Grand View Research:
http://www.grandviewresearch.com/industry-analysis/oil-free-air-compressors-market