Corrosion is the deterioration of metal pipe caused by a reaction between metallic material with the surrounding environment. In order to avoid this, a wide range of corrosion protection products are used in oil & gas industry components such as pipelines, vessels, tanks, and others. The products mainly include coatings, paints, inhibitors, and cathodic protection.
Corrosion protection products are extensively used in both upstream and downstream sectors to ensure efficient supply of crude oil, natural gas, and intermediate products. The upstream sector includes various applications including drilling of exploratory wells and making requisite operations in order to supply natural gas or crude oil to the ground surface. It requires corrosion protection as they get older and become more vulnerable to the corrosive forces of surrounding environment.
In oil and gas industry, coatings are widely used for the corrosion protection of metal components, owing to its ability to react quickly with the curing agents to yield cross-linked films that acts as an effective moisture resistant. However, regulations are imposed on its usage in conditions where operators may get exposed to health issues caused while coating process. In addition to that, regulatory bodies have designed standards for the execution of methods that qualifies the quality of coatings applied to internal and external services of pipelines which identify maintenance techniques.
U.S. oil & gas corrosion protection market, by sector, 2015 (%)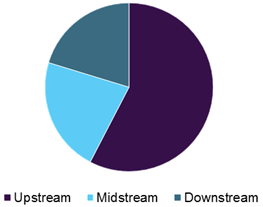 North America dominated the market globally owing to growing demand for petrochemicals and natural gas exports. Factors such as upcoming upstream construction projects and strong energy demand in various forms such as oil and natural gas in developing economies such as Mexico are propelling the demand for the corrosion protection products. Over the past few years, sensing and monitoring technologies for examination of internal corrosion of components has flourished and is expected to contribute to the growth of the market. Three layers PE (3LPE), fusion bonded epoxy and others are some of the major technologies used for the corrosion protection in oil & gas industry.
Epoxy resins, polyurethane, acrylic, alkyd material are some of the key raw materials used in the production of coatings. These materials undergo through the various process in order to produce high-quality coatings. Polyurethane coatings are used at various places for the corrosion protection that provides high glass finish, weathering performance characteristics and thin films. Polyurethane coatings are widely used for coating of various components like pipelines, metal tanks, pressure vessels owing to its electrochemical nature of corrosion.
Key players in this market have enhanced their presence across the value chain by increasing their R&D spending and by partnerships and collaborations with tier one companies. The companies are focusing on enhanced technology for internal corrosion detection for pipelines coupled with product innovation. In addition, manufacturers are spending more on the research & development to advance their technologies in order to comply with the regulations laid down by regulatory bodies.

In-depth report on global oil and gas corrosion protection market by Grand View Research:
http://www.grandviewresearch.com/industry-analysis/oil-gas-corrosion-protection-market