Chopsticks are pairs of equal length sticks used for eating and cooking purposes, across the globe. They are majorly used in the Asian countries and form a significant part of the day-to-day eating routines of Koreans, Chinese, Taiwanese, Japanese, and other Asians. In the Asian countries, chopsticks made from bamboo are used for household purposes. This may be accredited to the fact that chopsticks created from 100% bamboo (excluding wood fibers) are biodegradable and compostable. Bamboo being a natural resource can be reproduced at a faster rate compared to the traditional forests.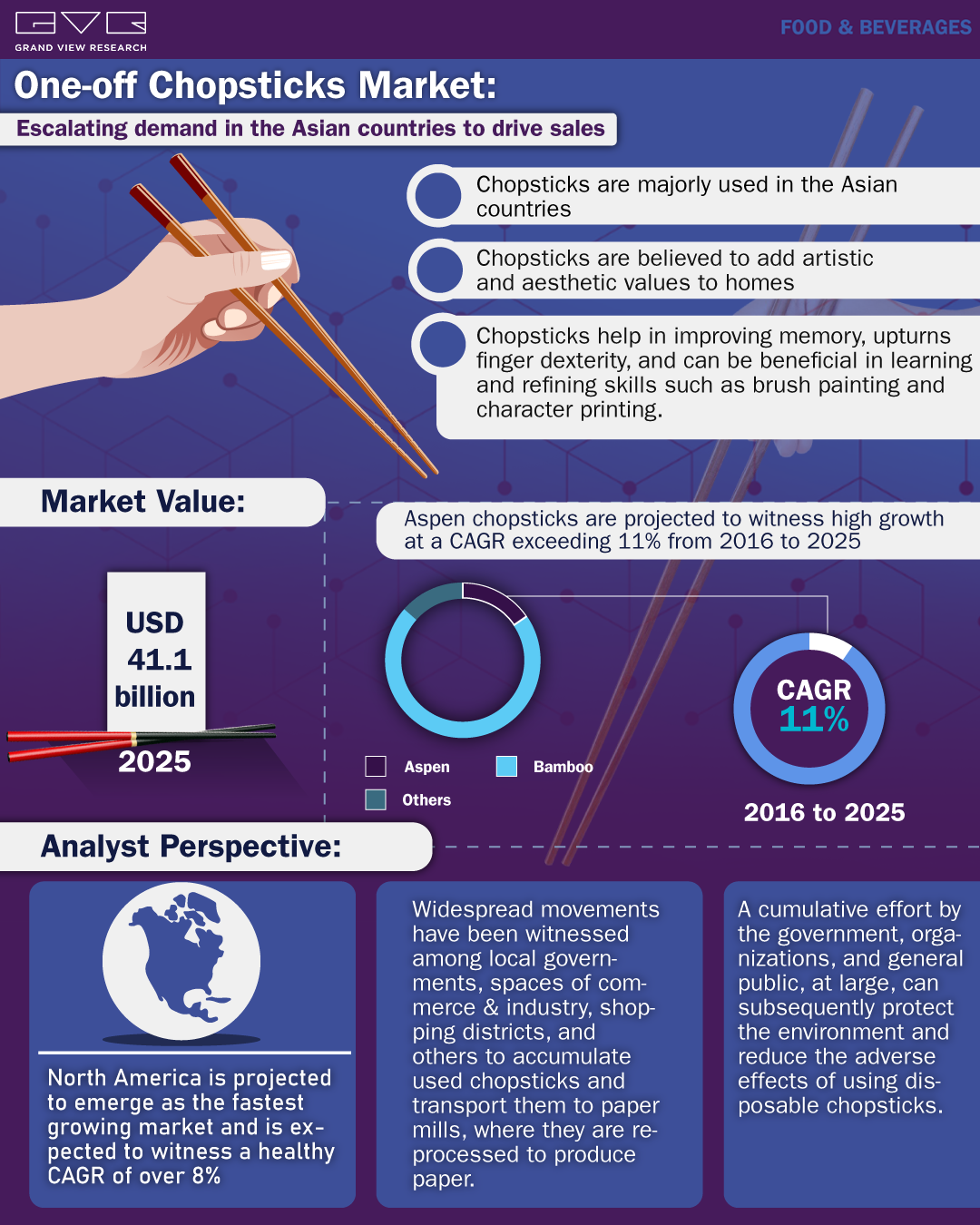 Chopsticks are believed to add artistic and aesthetic values to homes. Skillful craftsmen paint beautiful sceneries on chopsticks to use them as fine artworks. Several people are habituated to collect these artworks as treasures. It has been known that using chopsticks helps in improving memory, upturns finger dexterity, and can be beneficial in learning and refining skills such as brush painting and character printing. Many Asian superstitions spin around chopsticks, for instance, if there is an uneven pair of chopsticks at one's table, the person is said to miss his next train or plane.
Global one-off chopsticks by product, 2015 (USD Million)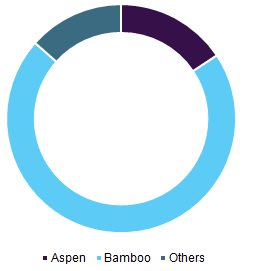 The graph above suggests that the bamboo segment accounted for a significant share in 2015, owing to the growing espousal in the Asian countries. However, the aspen wood segment is anticipated to witness high growth over the forecast period, owing to the environmental and economic benefits offered by it, in comparison to bamboo, birch, and cottonwood.
Analyst Perspective
The rise in chopsticks manufacturing activities in North America is further expected to catapult the demand for one-off chopsticks over the forecast period. In the Asia pacific region, China is projected to witness a significant growth in the near future, owing to the espousal of aspen wood chopsticks.
Increased usage of one-off chopsticks leads to unfavorable impacts on the environment, owing to which, their continuous espousal in the future appears to be bleak. There are two major reasons for the decreasing popularity of disposable chopsticks. Firstly, there is a preconception that cutting down trees is ensuing deforestation and secondly, many people opine that it unproductive to use one-off chopsticks, as they are not reused.
One of the major environmental impacts is the frequent occurrence of floods and mudslides, hovering concerns regarding the deteriorated water-retaining capacity of mountainsides and disaster management. Deforestation triggered by increased wood usage not only damages the local environment, ensuing mudslides and enfeebled resilience against flooding, but also disturbs global warming by reducing the number of trees that absorb and store carbon dioxide.
Thus, widespread movements have been witnessed among local governments, spaces of commerce & industry, shopping districts, and others to accumulate used chopsticks and transport them to paper mills, where they are reprocessed to produce paper. Thus, several health hazards and environmental impacts are projected to remain as the major challenges for the one-off chopsticks market. However, a cumulative effort by the government, organizations, and general public, at large, can subsequently protect the environment and reduce the adverse effects of using disposable chopsticks.

In-depth report on global one-off chopsticks market by Grand View Research:
https://www.grandviewresearch.com/industry-analysis/one-off-chopsticks-market