Feed additives are the common ingredients of diets in animals. The importance of feed additives has been realized and recognized over the past few years only. These products help in achieving greater efficiency and higher production. Along with this, the feed additives play a significant role in maintaining a healthy animal health, improve end-product quality & even safety and reduce the industry's environmental impact.
The significance of these additives is yet to be fully disclosed. Additional efforts are required to further recognize the significance of these additives and curtail the harmful effects that these products might have in conditions when they are not utilized appropriately or when they interact with any other additives or else feed ingredients. In short, the constituents play a crucial role in maintaining the health of food-producing animals in this era of minimal pharmaceuticals.
Over the past few years, the industry has experienced subsequent shifts in raw material trends, technology, and even production. The feed additive manufacturers have been investing in several R&D projects to help the feed producers achieve optimum product quality at minimum cost.
Currently, a much-discussed issue in the industry is the utilization of alternative raw materials that will help the manufacturers in improving sustainability and reducing reliance on imported materials. However, along with the advantages, there are a few challenges in the use of alternative raw materials for feed additive. For instance, these alternatives might be extremely high in fiber content and contain anti-nutritional particles. The addition of these types of additives in animal feed could persuade the propagation of pathogens with a high possibility that it will have negative effects on animal health and performance.
During the raw material processing, there have been a few improvements recently to improve the nutritional value. Processes such as the heat treatment are currently used to reduce both the auditory-nerve fibers (ANF) and fiber levels. For the co-products such as the rapeseed meal and the DDGS, the application of enzyme pre-treatment process has been still under research and development stage.
New technology such as the enzyme technologies have been of immense help for the improvement of diet efficiency, feed formulation precision and ultimately the performance by reducing the raw material variability.
Hence, the animal feed additive industry has been still in the developing stage and along with the rising demand for high purity and quality food products for the modern population, the demand of additives is also expected to build up over the next few years.
Another essential issue for the additive manufacturers is that the application of feed additives in animal feed production is subjected to governmental regulations globally and varies from one region to another and in many countries.
Decision making process while evaluating feed additives approval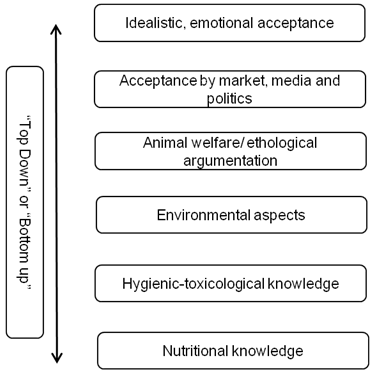 In-depth report on global animal feed additives market by Grand View Research:
https://www.grandviewresearch.com/industry-analysis/animal-feed-additives-market