Orthobiologics includes products that are made of substances that are naturally developed in out body. These are incorporated by orthopedic surgeons for bone and tissue repair. These are increasingly being utilized to treat broken bones and injured ligaments, tendons, and muscles.
These products efficiently trigger soft tissue healing in orthopedic surgeries as well as in sports medicine. It includes reinforcement patches, regenerative tissue matrices, and scaffolds. These products have high potential growth prospects due to the presence of physically active population base. Physically active population tends to have ligament tears and other sports injuries that raise the growth potential for these products. On the other hand, obese and geriatric population base are highly susceptible toward the development of orthopedic disorder which is anticipated to fuel the demand further over the coming years.
The market is also presumed to be predominantly fueled by the presence of untapped opportunities in the field of bone healing and fracture repair. The ongoing strategic collaborations employed by key companies are expected to provide a significant growth platform and increase the adoption rate of these products in medical applications.
The orthobiologics market is competitive in nature and is registered by the presence of major players such as Smith & Nephew plc, Stryker Corporation, NuVasive, Inc., DePuy Synthes, Inc. and Genzyme. The key participants are extensively undertaking strategies to register consistent growth such as geographical expansions, exploring untapped potential in the emerging economies, new product development & research initiatives.
Moreover, the companies are also increasingly inclined toward distribution enhancement strategies and involving in mergers & acquisitions. For instance, in January 2016, Bioventus launched DUROLANE, hyaluronic acid based single-injection for joint-fluid osteoarthritis treatment, in Taiwan. This product launch led to the greater geographical presence of the company and also fueled the product penetration in Asia Pacific region.
Orthobiologics Market Segmentation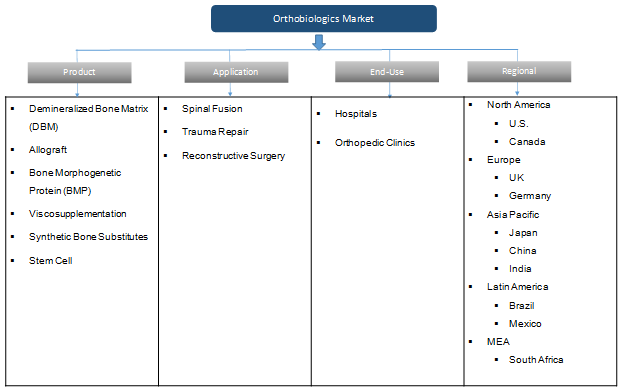 The orthobiologics market is primarily driven by the rising musculoskeletal disorders amongst general and geriatric population globally. The aforementioned is believed to be a consequence of the adoption of unhealthy lifestyle and frequent general accidents contributing to rising number of orthopedic procedures.
Moreover, the advent of technologically advanced biomaterials, incorporated in the production of orthobiologics is believed to accelerate the demand over the forecast period. These predominantly include modifications in graft designs, the advent of recombinant biologic agents, stem cell therapy and cultured tissue scaffolds.
These advancements led to benefits that include reduced surgical time enhanced biocompatibility, and the requirement for smaller incisions, which is not, sufficed in open surgeries and mechanical orthopedic treatment options, thus deeming it lucrative choice amongst the orthopedic surgeons and physicians. In addition, these are believed to significantly reduce the re-occurrence of post-operative complications, which in turn is anticipated to fuel the orthobiologics market over the coming years.

In-depth report on global orthobiologics market by Grand View Research:
http://www.grandviewresearch.com/industry-analysis/orthobiological-products-market