Orthopedic navigation system finds application in the spine, hip, and knee surgeries. Spine surgery navigation system is used for placing implants in spinal fusion procedure to treat defects caused by deformity, degenerative disc diseases, fractures, spondylolisthesis, and spinal stenosis. In the case of hip surgery, these systems are used during total hip arthroplasty. Knee surgeries where these systems are used include Total Knee Arthroplasty (TKA), kinematic evaluation, revision of TKA and, and unicompartmental arthroplasty.
The market is driven by increasing incidence of target disorders coupled with penetration of computer-assisted surgery in the field of orthopedic surgery. Introduction of technologically- advanced products facilitating enhanced portfolios, research alliances, and broadened distribution channels are key factors favoring competitive growth
Increasing geriatric population base coupled with degenerative joint disorders is a major driver for this market growth. Increasing cases of calcium and vitamin D deficiencies are leading to decreased bone health and osteoporosis. Navigated surgeries provide more accurate implant alignment with improved functionality, less pain coupled with fewer complications, and low amount of tissue damage.
Global orthopedic navigation system market, by application, 2016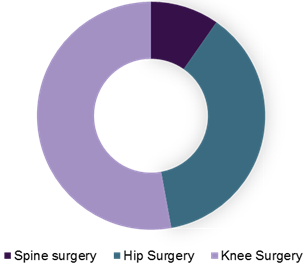 Increasing usage rate of navigation software by surgeons and physicians due to higher awareness levels and availability of cost-effective solutions is anticipated to boost the market growth. In addition, rising adoption of minimally invasive surgeries is the factor contributing toward growth over the forecast period.
Furthermore, rising incidence of orthopedic disorders, such as osteoporosis, poses an economic burden on many countries. As per International Osteoporosis Foundation, total number of hip fractures is expected to increase from 1,433 million in 1950 to 5,395 million in 2050. The aforementioned factors are anticipated to further propel growth in the near future.
The number of orthopedic replacement surgeries performed over the last decade has significantly increased. Growing geriatric & obese population coupled with unhealthy lifestyles are some of the reasons for this changing trend. Joint replacement procedures performed over the decade in developed countries has shown a steep increase.
For instance, the knee replacement rate tripled in Denmark, doubled in Spain, and increased by around 60% in France. According to International Osteoporosis Association, over 30% of all postmenopausal women in Europe have osteoporosis. The number of people having osteoporosis is estimated to be 725 million in 2050. The aforementioned factors can be attributed to the market growth over the forecast period.
Moreover, the price for orthopedic navigation systems is expected to decline during the forecast period, majorly due to growing manufacturer initiatives aimed at producing cost effective products and government initiatives aimed at strengthening reimbursement policies.

In-depth report on global orthopedic navigation systems market by Grand View Research:
http://www.grandviewresearch.com/industry-analysis/orthopedic-navigation-systems-market