Pancreatic cancer is one of the deadliest cancer and has surpassed breast cancer, moving from the fourth leading cause of cancer-related death in the U.S. to the third position. According to the Pancreatic Cancer Action Network, in 2016, it was estimated that in the coming years, 53,070 Americans will be diagnosed with pancreatic cancer, and 41,780 will die from the disease. While the overall cancer-related deaths are decreasing, mortality rates associated with pancreatic cancer are constantly increasing. Prime causes for pancreatic cancer include smoking, alcohol consumption, and age above 60 to 80 years.
Global pancreatic cancer treatment market, by region, 2015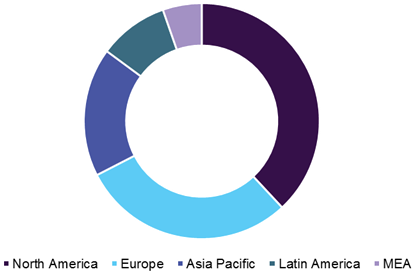 Based on the affected region, the pancreatic cancer treatment market is categorized into endocrine and exocrine. The market for exocrine pancreatic cancer occupied the largest market share in 2015 as it is the most common type of pancreatic cancer and more than 95% of pancreatic cancers are classified as exocrine tumors. The market for exocrine pancreatic cancer is expected to foresee the fastest growth rate during the forecast period.
Chemotherapy and targeted therapy are the treatment modalities that are used in pancreatic cancer. Growing use of targeted therapy due to its effectiveness is expected to play an important role in positively impacting the market growth.
Only 9% of the cases are diagnosed when the disease is in a confined stage. As on date, no proven biomarkers are detected in the blood or other bodily fluids, which could indicate the presence of pancreatic tumor at an early stage. There are only four drugs that have been approved for the treatment of pancreatic cancer by the U.S. FDA namely, Gemzar (Eli Lilly and Company) in 1996, Tarceva (Genentech) in 2005, albumin-bound Abraxane (Celgene) in 2013, and Onivyde (Merrimack) in 2015. The effectiveness of the presently available treatment using the help of these drugs is still slow and majority of the patients still rapidly succumb to the disease.
The pancreatic cancer treatment market is fragmented with a number of companies operating in the market. Players are investing heavily in research and development to expand their product offerings to maintain a competitive advantage over others. Some of the major players operating in this space include, but are not limited to, Eli Lilly and Company; Celgene Corporation; F. Hoffmann-La Roche AG; Amgen, Inc.; Novartis AG; PharmaCyte Biotech, Inc.; Clovis Oncology; Teva Pharmaceutical Industries Ltd.; Merck & Co., Inc.; and Pfizer, Inc.

In-depth report on global pancreatic cancer treatment market by Grand View Research:
http://www.grandviewresearch.com/industry-analysis/pancreatic-cancer-treatment-market