Paraffin wax is a colorless or white soft solid derived from petroleum, coal, and oil shale. These products find use in candle making, packaging, cosmetics, hot melt adhesives, rubber, board sizing, children's crayons, and toys. Rising living standards coupled with the need for maintenance of home hygiene are expected to drive the demand for fragrance products such as candles, which in turn will fuel industry growth over the next nine years.
Paraffin waxes are used for manufacturing candles owing to reliability and cost efficiency of the product. Wax candles are used as fragrance products and in aromatherapy on account of its low volatile organic compound emissions. Rising popularity of aromatherapy coupled with increasing usage of these products in commercial buildings, hotels, restaurants, and spas is expected to aid in the market expansion.
Rising consumption of paraffin wax for manufacturing personal care products such as body lotions, ointments, creams, balms, and lipsticks coupled with the development of the personal care industry will augment its demand over the forecast period. Growing appearance consciousness among the youth and consumer awareness for maintaining and enhancing skin health is expected to stimulate its usage in personal care products over the upcoming years.
Germany paraffin wax market volume share, by application, 2015 (%)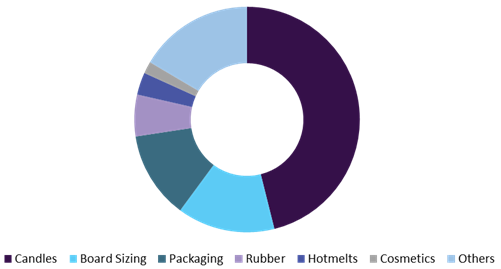 The growing food packaging industry in Germany owing to the presence of various food chains across the country is expected to to influence the market over the forecast period positively. The increasing importance of online platforms as a medium for marketing fragrant candles in the country is likely to have a positive impact on the growth.
Asia Pacific paraffin wax market is expected to be driven by the rising demand for food & beverage packaging and cosmetic industry. The growing prominence of ready-to-eat food coupled with increasing number of fast food chains in the region is expected to drive the application of these products in packaging.
Increasing income and appearance consciousness among consumers are likely to stimulate growth in the region. In addition, the rising number of oil & gas exploration projects in China and India is expected to augment the production of paraffin wax in the region. Furthermore, increasing paraffin utilization in civilian and artistic taper candles is anticipated to fuel demand.
The Middle East & Africa is expected to foresee significant demand rise owing to increasing product usage in hygiene maintenance in the region. Moreover, abundant oil & gas reserves are expected to augment the availability of raw materials, which in turn is likely to spur market growth.
Lack of product differentiation between manufacturers makes the industry competitive in nature. Key participants include PetroChina Company Limited, Sinopec, IOCL, Sasol, ExxonMobil, International Group Inc., Petrobras, Petro-Canada, Nippon Seiro Co., Ltd., Repsol, H&R Group, Frontier Wax, CEPSA, Calumet Specialty Products Partners, L.P., Ergon, Inc., and Honeywell.

In-depth report on global paraffin wax market by Grand View Research:
http://www.grandviewresearch.com/industry-analysis/paraffin-wax-market