There are a growing number of surgical procedures being conducted throughout the world. According to OMICS International Conferences, 2015, approximately 234 million surgical procedures are performed annually. Patient warming and cooling systems are widely used in pre-, post-, and perioperative surgeries. On receiving an anesthesia before surgery, the body temperature of a patient lowers and, hence, there arises a huge need for controlling core body temperature. General anesthesia provided before a surgery reduces the body temperature of the patient below normal, which results in induced hypothermia. Hence, warm surfaces exposed to the patient's body helps in reducing the risk for intraoperative hypothermia. Moreover, perioperative hypothermia gives rise to surgical site infections. Hence, patient temperature management has been proved to be very effective in avoiding such post- and perioperative surgical complications.
Global patient temperature management market, 2015, (USD Million)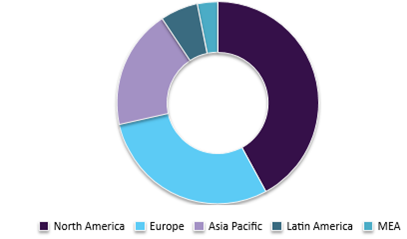 According to National Cancer Institute, in the U.S., the number of new cancer cases is estimated to increase to 22 million within the next 2 decades. Rising number of cancer affected patients due to genetic factors and frequent use of tobacco & alcohol has increased the requirement for temperature management systems to some extent. Low body temperature of the cancer patients can trigger the multiplication of the cancer cells. Hence, exposure of the body to patient warming systems can reduce the risk for such problems. This application has also proved to be very useful for the effective working of chemotherapy and radiation therapy among cancer patients. However, sometimes very high temperature tends to damage their normal cells and tissues.
With rising need for warming and cooling therapies, major companies are also focusing on improving the products through technological advancements aimed at serving the growing complications related to perioperative surgeries. For instance, Cincinnati introduced Kool-Kit with Blanketrol III, which is used as a patient cooling system. These surface cooling blankets and pads have evolved as innovative temperature management products that provide temperature management at surgical sites, while maintaining the desired body temperature. Surface cooling systems help maintain patients' normal body temperature by circulating cold fluid or air through blankets or surface pads that are wrapped around them. Moreover, blood and fluid temperature management that work by circulating warm or cold saline in a patient's body through a catheter inserted into the central nervous system have also evolved in recent times.
Furthermore, cardiovascular diseases such as heart attack and stroke increase the need for temperature control of the patient's body. Exposing patients to low temperature post-cardiac arrest helps in reducing adverse neurologic outcomes, which might lead to traumatic brain injury. IN addition, patient temperature management systems are significantly effective for neonatal care. Newborns are kept in incubators that help in controlling their temperature through warming or cooling systems. Hence, healthcare professionals manipulate the body temperature of a patient for treatment of related diseases or a newborn in case of a premature birth as a part of their therapeutic strategy through temperature management systems.

In-depth report on global patient temperature management market by Grand View Research:
http://www.grandviewresearch.com/industry-analysis/patient-temperature-management-market