Pectin is a soluble fiber which is derived from various fruits such as plums, guavas, quince, strawberries, cherries, apples, carrots, apricots, oranges and citrus peels. Plant extracts are also often employed for the production of pectin. It is usually utilized as a stabilizer in desert fillings, medicines, and sweets.
Fruits which have a harder exterior surface contain large amounts of pectin in them. These include gooseberries, pears, guavas, oranges, quince, apples, and plums. Whereas, soft fruits have small amounts of pectin; these include grapes, cherries, and strawberries. Pectin is generally produced as a light brown powder, for commercial use.
Pectin is often used as a thickener, stabilizer, gelling agent, fat replacer, and emulsifier. These qualities of pectin are utilized for various application segments including, food & beverage, pharmaceuticals, bakery, meat products, cosmetics and personal care. Pectin is also added to dairy products owing to its beneficial probiotics properties. Increasing health consciousness among consumers is anticipated to drive the market growth.
Agencies such as Food and Drug Administration (FDA), Environmental Protection Agency (EPA), and Council of Europe (CoE), have issued several directives and regulations governing the entire length of the value chain. These agencies govern the use of pectin for medical, food, commercial, and industrial applications.
Global pectin market revenue, by application, 2015 (USD Million)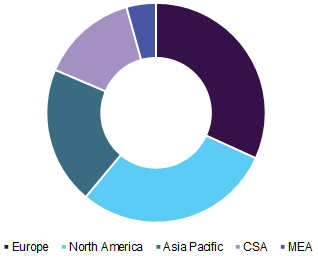 Pectin is used for the prevention and control of various diseases including, high cholesterol high blood pressure, & blood sugar, joint pain, colon & prostate cancer, high triglycerides, gastroesophageal reflux disease (GERD) and diabetes. Pectin is also utilized for its probiotics benefits and for weight management. In addition, some people also use pectin to prevent poisoning caused by strontium, and other heavy metals.
Despite various advantages and benefits of pectin, it does have some side-effects. Some of them are when it is consumed combination with insoluble fiber and guar gum (the combination used to lower blood fats and cholesterol), it can cause digestion problems such as gas, diarrhea, and loose stools. However, it is still believed to be a remarkable health supplement for humans.

In-depth report on global pectin market by Grand View Research:
http://www.grandviewresearch.com/industry-analysis/pectin-market