Diabetes mellitus is a chronic disease affecting people of nearly all age groups. Type 1 diabetes, indicating insulin deficiency, is generally found amongst pediatric population and young adults. As per the estimates of the American Diabetes Association, only 5% of the overall diabetic population have type 1 diabetes. On the other hand, type 2 diabetes indicates insulin resistance and is the most common type of diabetes occurring amongst people. Obese people are commonly diagnosed with type 2 diabetes. According to the WHO, in 2014, there were nearly 600 million obese people in the world. Such a huge obese population has also raised the epidemiology of type 2 diabetes across the globe. As a result, in order to facilitate drug delivery, pen needles along with insulin pens are highly demanded by diabetic patients.
Global pen needles market share, by region, 2015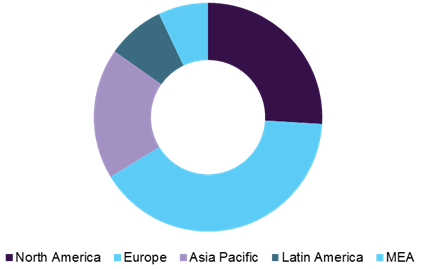 Huge technological advancements are taking place in the field of pen needles market. Traditionally, people suffering from diabetes use insulin and other medication injectables in the form of syringes and vials. However, with improved technology, insulin pens have gained wide popularity amongst the target population. Insulin pens with needles of varied lengths are largely used owing to their portability and ease of handling. Moreover, these days, pen needles are manufactured using modern techniques to facilitate needle smoothness. The fine pointed tip of these needles also helps in easy penetration, particularly, for the obese diabetic population.
In addition, safety pen needles are being manufactured with improved technology that ensures safety. The primary advantage of using safety pen needles is that it eliminates the risk of needlestick injuries. The plastic caps attached to these needles facilitate additional safety for both the patient and the needle. Some pen needles are designed in such a way that it reduces the risk of post-usage contamination by covering both the ends of the needle. For instance, the BD AutoShield Duo safety pen needle manufactured by Becton Dickinson and Company has dual shields that ensures protection of both ends. Needles with shorter lengths provide greater comfort during drug delivery as they are painless. Pen needles commonly help the diabetic patients for insulin delivery. Thus, rising public awareness regarding self-administration of insulin or any other drug has also accelerated the growing usage of pen needles.
Europe comprises one of the largest diabetic population throughout the world. According to the International Diabetes Federation (IDF), in 2015, 59.8 million people were living with diabetes in Europe and this figure is expected to rise to 71.1 million in 2040. Hence, with rising diabetic population in the European region, demand for pen needles is also expected to increase in the near future. North America is also expected to witness significant growth in the pen needles market due to huge penetration of advanced technology, which encourages increased adoption of pen needles.

In-depth report on global pen needles market by Grand View Research:
http://www.grandviewresearch.com/industry-analysis/pen-needles-market