Absorption of moisture in medicines such as tablets, powder, capsules due to moist environment causes decomposition that can generate salicylic acid and acetic acid, and give off stinking odor.
Silica gel is manufactured using sodium silicate and is an amorphous form of silicon dioxide which is produced in the form of beads or granules. These molecular structures develop high moisture adsorption surface areas as compared to other adsorbents.
Global pharmaceutical grade silica gel market in Pharmaceuticals Application, 2015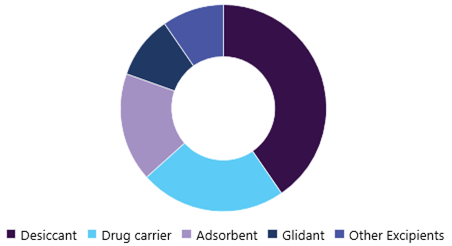 Pharmaceutical grade silica gel is used in wide range applications including oil & gas, pharmaceuticals, electronics, paints & coatings, and agrochemicals. Oil & gas segment uses pharmaceutical grade silica gel in various applications among which butadiene recovery, BTX extraction, and lube oil purification are the major ones. Oil & gas refers to petrochemical industry, where the downstream operations (refining process) mainly consumes pharmaceutical grade silica gel. In oil & gas downstream operations are expected to boost in the coming years.
In pharmaceutical segment, pharmaceutical grade silica gel is mainly used as a solvent in drug delivery systems, as it is a very strong solubilizing agent, and also as a penetration enhancer. There are few restrictions on pharmaceutical grade silica gel usage where human pharmaceutical grade silica gel contact happens. The restrictions are mainly on dermal and oral exposure to pharmaceutical grade silica gel. This is expected to act as a restraint to the market. Due to the unavailability of exactly similar substitute to pharmaceutical grade silica gel these regulatory restrictions are expected to leave limited impact on the pharmaceutical grade silica gel market.
Asia has converted into a hub, with developing economies such as China and India leading the growth. New refinery projects coupled with expansion in the current ones is further fueling the refinery business in the region. However, usage of pharmaceutical grade silica gel in excess amount possesses several potential threats to humans. In light of these factors, certain regulatory bodies such as European Medicines Agency (EMA), U.S. Department of Health and Human Services and others have restricted the utilization of pharmaceutical grade silica gel in end user products. European Medicines Agency (EMA) has imposed restrictions on the utilization of plastics as an immediate packing material for desiccants. Pharma grade silica gel is widely used in very sensitive applications due to which it has to follow the restrictions imposed by various regulatory bodies.
Pharmaceutical grade silica gel is generally produced by the method called sol-gel method. Mineral acid and sodium silicate are utilized in the wet process in order to create a reaction for monomeric silicic acid. These particles form 3D structure in a gel-state with a refractive index 1.46.
Key players in pharma grade silica gel market have global presence across the value chain. It represents that companies owns the supply of raw materials along with distribution of end user products to the various end user applications. Companies are emphasizing on capacity expansion through in house research and development or through forward backward integration.

In-depth report on global pharmaceutical grade silica gel market by Grand View Research:
https://www.grandviewresearch.com/industry-analysis/pharmaceutical-grade-silica-gel-market