Shape memory polymers (SMPs) are altered polymers whose chemical and physical properties have been modified to provide active shape "memory" characteristic. SMP can display a radical change by using thermal or other such stimuli to convert into an elastic state from a rigid polymer. It recovers its "memory" shape if left uncontrolled. However, SMPs can tolerate upto 200% elongation without degrading the material, which can be stretched, folded, or molded to other shapes due to its flexibility. The quality of the product is achieved from the stored mechanical energy formed during the reconfiguration and cooling of the raw material.
In addition, SMPs are used as a coating medium on other materials. This versatility property makes it ideal for applications such as deployable components, dynamic configurable parts, reusable custom molds, and inexpensive.
Global polymer chameleon market share, by type, 2015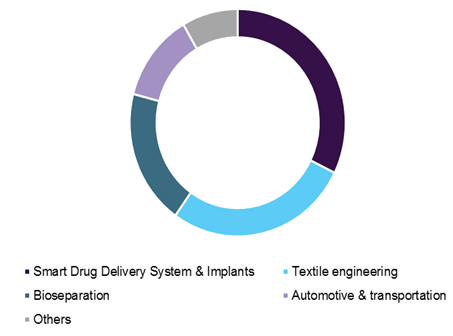 In the automotive industry, these advanced materials are used in vehicle subsystems which can self-heal during any damage, or which can be designed to transform its color or appearance.This novel material offers new high-tech features while improving automobile performance at lower cost.
Following advantages are observed when shape-changing materials are utilized in the replacement of motors:
- Improve fuel economy
- Reduce vehicle mass and component size/complexity
- Increase reliability/improve vehicle performance
Recently, these polymers are being used especially for deployable components and structures in aerospace. The major applications include trusses, hinges, booms, optical reflectors, morphing skins, and antennas. Moreover, there are many patents filed by leading polymer chameleon manufacturers in relation to SMPs applications, such as intravascular delivery system, gripper, tunable automotive brackets, and hood/seat assembly vehicles.
In addition, SMPs also present supplementary potential in the areas of medicine. SMPs are chemically formulated that electro-actively detect environmental changes in biological systems. This makes them a very useful tools for metabolic control mechanisms.
Polymer chameleon market is mostly used as smart drug delivery system and implants followed by textile engineering. Increasing demand in major end-use industries is expected to drive the overall polymer chameleon market.

In-depth report on global polymer chameleons market by Grand View Research:
http://www.grandviewresearch.com/industry-analysis/polymer-chameleons-market