Being associated with a Chameleon has never been such a good thing before this! 'Polymer chameleons', which are also called 'Shape memory polymers (SMPs)', have managed to revolutionize the ways things were done in many areas and also were able to push demands in these sectors.
Simplifying Polymer Chameleons…
Before we jump onto simplifying one of the types of polymer, let us first dive into simplifying the meaning of a polymer. A polymer is nothing but repeated number of units and sub-units of molecules and macro-molecules, which gives it distinct properties. SMP is one such type of a polymer.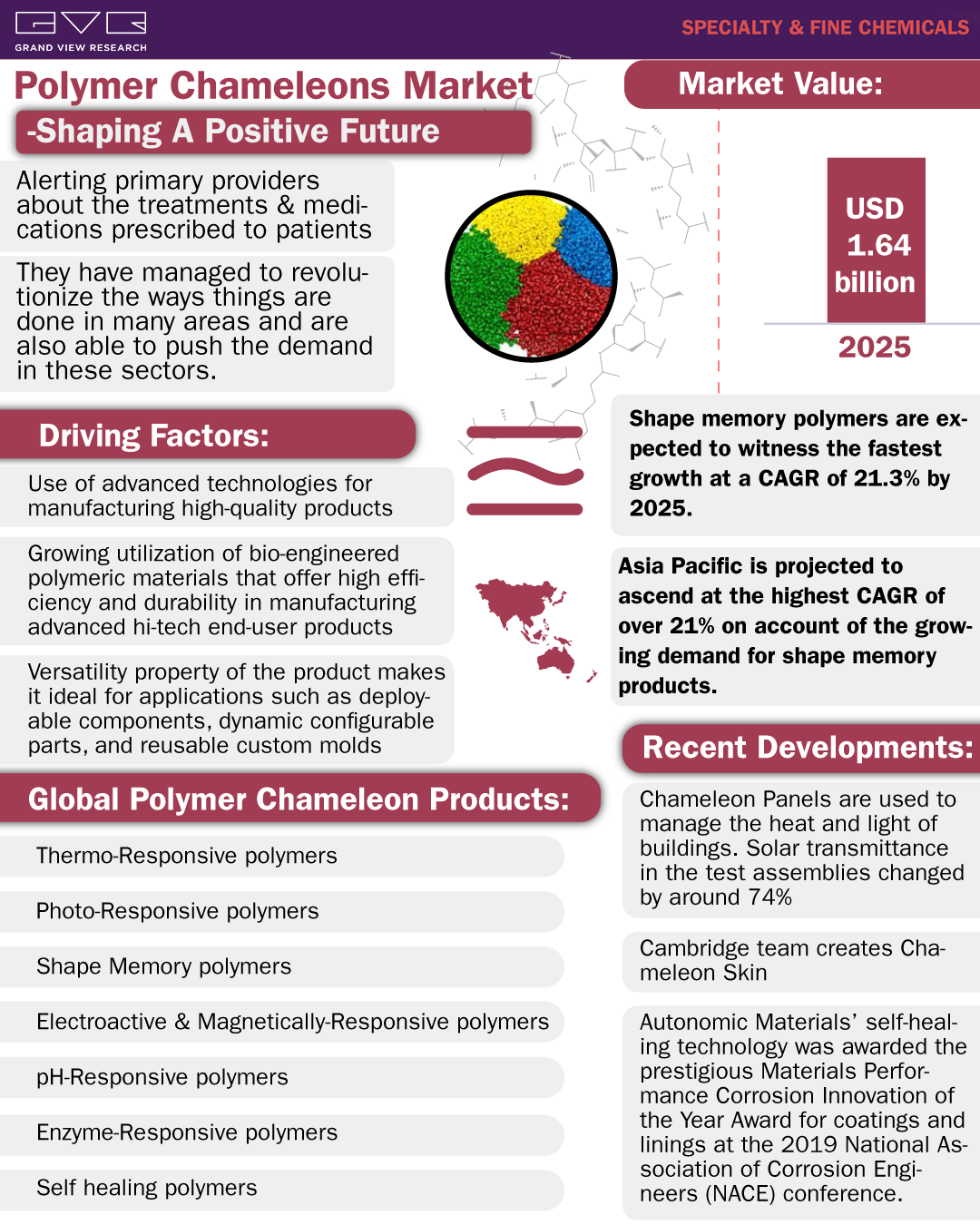 Polymer Chameleons, which are also called as Shape memory polymers (SMPs), as stated above, are altered polymers whose chemical and physical properties have been modified to provide active shape "memory" characteristic. SMP can display a radical change by using thermal or other such stimuli to convert into an elastic state from a rigid polymer. It recovers its "memory" shape if left uncontrolled. However, SMPs can tolerate upto 200% elongation without degrading the material, which can be stretched, folded, or molded to other shapes due to its flexibility. The quality of the product is achieved from the stored mechanical energy formed during the reconfiguration and cooling of the raw material.
SMPs have applications all across industries, such as automotive, healthcare & textile industries among others. In the recent years, the demands are on the rise, so much so that, the global polymer chameleon market is expected to reach USD 1.64 billion by 2025, according to a report by Grand View Research, Inc.
Rising Applications…
SMPs are used across the industries due to its moldable property, which provides it unique ability to enhance the efficiency of the machine it is used in. Versatility property of the product makes it ideal for applications such as deployable components, dynamic configurable parts, reusable custom molds and also inexpensive in comparison with other substitutes. This has led to increased demand for the product all around.
Globally, smart drug delivery system & implants has captured the major part of the market share of polymer chameleon market and it is aptly highlighted in the pie-chart below.
Global polymer chameleon market share, by applications, 2015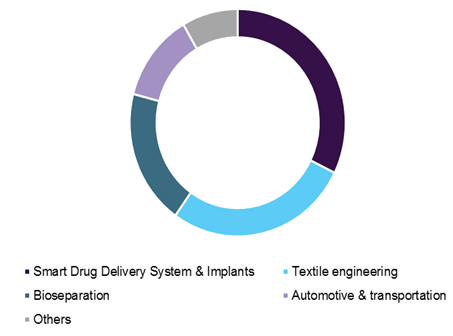 In the automotive industry, these advanced materials are used in vehicle subsystems which can self-heal during any damage, or which can be designed to transform its color or appearance. This novel material offers new high-tech features while improving automobile performance at lower cost.
Following advantages are observed when shape-changing materials are utilized in the replacement of motors:
Improve fuel economy

Reduce vehicle mass and component size/complexity

Increase reliability/improve vehicle performance
Recently, these polymers are being used especially for deployable components and structures in aerospace industry. The major applications include trusses, hinges, booms, optical reflectors, morphing skins, and antennas. Moreover, there are many patents filed by leading polymer chameleon manufacturers in relation to SMPs applications, such as intravascular delivery system, gripper, tunable automotive brackets, and hood/seat assembly vehicles.
In addition, SMPs also present supplementary potential in the areas of medicine. SMPs are chemically formulated that electro-actively detect environmental changes in biological systems. This makes them a very useful tool for metabolic control mechanisms.
Polymer chameleon market is mostly used as smart drug delivery system and implants followed by textile engineering. Increasing demand in major end-use industries is expected to drive the overall polymer chameleon market.
Market & Regional Insights…
Asia Pacific and Europe has an upper hand, when it comes to the greater market share globally. Also, among both of them, Asia Pacific holds the greater market share i.e. 15% of the global demand, because, companies in Asia Pacific are involved in developing innovative product portfolio, especially R&D facilities in therapeutic and medical sectors. In addition to this, proliferation of manufacturing unit and greater implementation of advanced technologies in the region is expected to increase the demand for the product manifolds.
Presence of the larger MNCs has driven the increase of market share in Europe. Along with this, the favorable regulations and amendments by EU and EPRO (the European Association of Plastics Recycling and Recovery Organizations) have given a boost to the product penetration of the product in the market.
Polymer chameleon Market is concentrated with top few players and is characterized with technological advancements, greater geographical reach, continuous developments and diversified product portfolio. Key players in the market are Akzo Nobel N.V., Evonik Industries AG, BASF SE, E. I. du Pont de Nemours and Company, Autonomic Materials, DOW Chemical Company, etc.
Recent Developments…
Chameleon Panels are used to manage heat and light of the buildings. Polymer Chameleons are the cheap substitute used to make the whole project of covering a larger part of the buildings affordable as well. Solar transmittance in the test assemblies changed by around 74 percent.

Cambridge team creates Chameleon Skin - In a paper in Advanced Optical Materials, Andrew Salmon, Sean Cormier and colleagues describe how they coated minute particles of gold in acrylic polymer shells, and then squeezed these coated particles into micro-droplets of water suspended in oil.

Autonomic Materials' self-healing technology was awarded the prestigious Materials Performance Corrosion Innovation of the Year Award for coatings and linings at the 2019 National Association of Corrosion Engineers (NACE) conference.

In-depth report on global polymer chameleons market by Grand View Research:
https://www.grandviewresearch.com/industry-analysis/polymer-chameleons-market