The number of people aged 60 and above has been substantially increasing in the recent years in most of the regions and is expected to keep growing over the coming years. The geriatric population is more prone to the development of pressure ulcers. The pressure relief devices market is grouped into low-tech devices and high-tech devices, based on device type.
Global pressure relief devices market, by type, 2015 (USD Billion)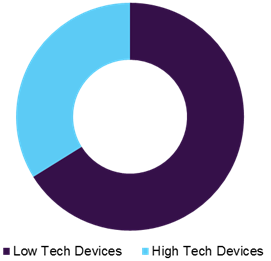 Rising geriatric population is contributing to growing demand for pressure relieving devices
In the 21st century, aging population can be expected to have far-reaching social, economic, and political implications on nearly all the sectors including healthcare. In fact, healthcare has facilitated increased life expectancy in elderly people over the course of years. According to the World Population Aging Report 2015 by the United Nations, the number of elderly people aged 60 and over is expected to reach 1.4 billion by 2030.
Elderly adults have a tendency to develop pressure sores or bed sores due to impaired or limited mobility and loss of skin elasticity. The geriatric population aged 60 years and above is anticipated to grow with an estimated increase of 41% in North America, 23% in Europe, and 66% in Asia. Hence, these regional pressure relief markets will experience impressive growth over the coming years.
Growing awareness in the form of campaigns and educational programs about pressure ulcer prevention
The prevention of pressure ulcers requires interdisciplinary approach and it has to be specific for every patient. For streamlined treatment procedures, these professionals are required to be trained for management of pressure ulcers. Various campaigns have been arranged for spreading awareness about pressure ulcer prevention.
In the U.S., treatment of pressure ulcers cost between USD 9.1 billion to USD 11.6 billion per year. The increasing costs required for pressure ulcer management have raised an alarm across the world. As pressure ulcers can be prevented with proper management, many campaigns have been launched over the recent years for raising awareness. Some of the active campaigns include "Stop the Pressure", "Zero Pressure", and "Your Turn: Campaigning to prevent pressure ulcers".
North America held the majority of market share in 2015
North America was identified as the largest market for pressure relief devices. This is primarily due to the rising geriatric and obese population base in the region, along with the technological advancements. Around 18.1% population in the U.S. will be aged 65 and above by 2025.More than 2.5 million Americans suffer from pressure ulcers each year.
The UK government has taken initiatives to spread awareness about pressure ulcer prevention in the form of campaigns such as 'Stop the Pressure'. On the other hand, Asia Pacific region is projected to showcase fastest growth rate over the forecast period.
Key market players
The market is marked by partnerships between the companies and acquisitions of smaller players. In addition, some companies are focusing on new product development as an initiative for strategic expansion. Some established key market players in this industry include ArjoHuntleigh; BSN medical; Hill-Rom Holdings, Inc.; PARAMOUNT BED HOLDINGS CO., LTD.; and Acelity.

In-depth report on global pressure relief devices market by Grand View Research:
http://www.grandviewresearch.com/industry-analysis/pressure-relief-device-market