Tighter healthcare budgets and continuous patient monitoring increases unnecessary costs. This can be tackled by spot-checking using a portable pulse oximeter. Readmission is a major problem faced by patients suffering chronic diseases such as COPD and is estimated to cost around USD 25 billion annually. This creates a high demand for oximeters that can monitor the patient's condition and remotely send the data to doctor.
Hand held pulse oximeter dominated the market in 2015. However, fingertip pulse oximeters are rapidly gaining its roots in the market. The introduction of newer and better products is the main driver responsible for this growth. For instance, in June 2015, Masimo also launched MightySat Rx Pulse Oximeter, which was compatible with smartphones and tablets. The product was able to transfer data of 12 hours to the doctor, thereby helping them monitor the patient remotely. Development of such products is expected to boost the demand for fingertip oximeter in the near future.
Pulse oximeters market share, by geography, 2015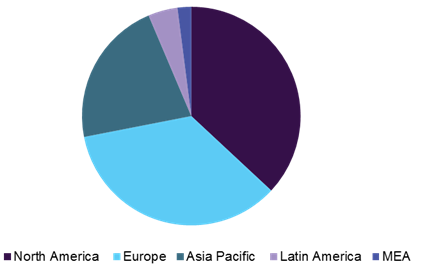 Some of the diseases that affect the pulse negatively are peripheral arterial disease (PAD), peripheral vascular diseases, and infants with congenital heart disease. North America has a high prevalence of PAD with almost 12 million people affected by it. Moreover, prevalence of Congenital Heart Disease (CHD) in this region is also high with almost 2 million infants being affected. This is a key reason for North America to be the largest market for pulse oximeter across the globe.
Asia Pacific is expected to be the most lucrative region of the industry. This can be attributed to rapidly increasing geriatric population, presence of a large patient base, growing awareness & increased healthcare expenditure, and efforts of industry players to enter the market by introducing new products.
Several regional and international players are operating in the industry. Some of the key players are Covidien, Carefusion Corp, GE Healthcare, Koninklijke Philips N.V., Masimo, CAS Medical Systems, Inc., Opto Circuits India Ltd., Nonin Medical, Inc., Smiths Medical, Welch Allyn, Spacelabs Healthcare, Zensorium, Meditech Equipment Co. Ltd., and Nihon Kohden Corporation.

In-depth report on global pulse oximeters market by Grand View Research:
http://www.grandviewresearch.com/industry-analysis/pulse-oximeter-market