Pyrogen is a thermostable bacterial toxin, produced by various bacteria, viruses, molds, and yeasts. It induces immunogenic response when administered parenterally. It causes fever in a human or animal when administered parenterally. The bacterial pyrogens comprises of endotoxins and exotoxins, though many of them are endogenous to the host. Pyrogen testing involves the assessment of the presence of bacterial toxins in drugs, biological products, and medical devices, which can induce fever in humans. This is also used to determine the existence of microbes including bacteria & viruses and their metabolites in the products such as drugs during production process.
There are various tests including LAL test, in vitro pyrogen test, and rabbit test, which are widely used by the manufacturers for testing pyrogens. Increasing focus of healthcare companies and researchers in drug and biologics manufacturing, owing to its high demand in the treatment of various chronic diseases is a major driver of the pyrogen testing market. The pharmaceutical and biotechnology companies are investing large amount of money for quality product development and production. Thus, there is huge demand for pyrogen testing products to assure the quality of their products including drug, antibodies, vaccines, and other biologics.
Pyrogen testing market share, by region, 2016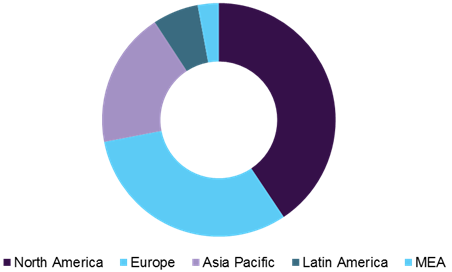 Rising prevalence of severe chronic diseases along with increasing geriatric population leads to increasing demand for good quality therapeutics and diagnostics products. WHO stated that, the number of people aged 85 years and above are estimated to grow from 14 million to 19 million by 2020. In addition, the growing focus of CROs in developing Asian countries like India and China for clinical trials are expected to increase the demand for pyrogen testing products. A large number of patients, low manpower cost, vast genome pool, availability of skilled personnel, and lower cost for conducting clinical trials in Asian countries have propelled the growth of the pyrogen testing market in this region. In addition, developing healthcare infrastructure and rising government support for drug development in Asian counties propels the penetration of global pharmaceuticals and biotechnology companies in Asian region.
Stringent government regulations for the drug & biologics development and manufacturing could hinder the growth of the pyrogen testing market. The regulations for pharmaceuticals and biologics development and manufacturing is very strict globally, mainly in the U.S and Europe. The discovery and development of pharmaceutical drugs can take longer time i.e. around 10 to 12 years, with investment of huge amount of money.
The pyrogen testing market is highly fragmented with the presence of a large number of global and local vendors. Some of the key players are Thermo Fisher Scientific, Inc.; Ellab A/S; Merck KGaA; GenScript; Lonza; Charles River Laboratories, Inc.; Hyglos GmbH; Associates of Cape Cod, Inc.; and Pyrostar. Several big vendors such as Thermo Fisher Scientific, Inc., Lonza, Merck KGaA, and Charles River Laboratories International, Inc., held the maximum share in the market in 2016.

In-depth report on global pyrogen testing market by Grand View Research:
http://www.grandviewresearch.com/industry-analysis/pyrogen-testing-market