Studies on medical radiography systems have revealed that radiation doses can be brought down, which can decrease their destructive impacts without endangering their diagnostic efficacy and adequacy. Even though imaging technologies are high costs, their efficiency in treating modern day disorders, they pose high threat of cancer risk. CT scan, nuclear medicine, and angiography are commonly used diagnostic procedures involving high radiation exposure. Thus, it is important to setup a system to monitor radiation dose rates in medical imaging as exposure to ionizing radiation results in perceived and potential risks.
Global radiation dose monitoring market, by region, 2015 (USD Million)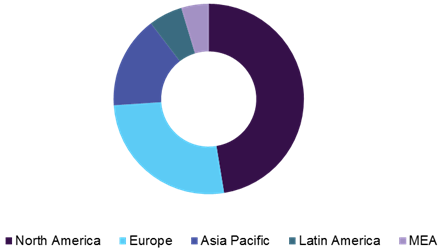 As risks associated with radiation exposure is getting scrutinized through events, journal publications and newspaper articles, resulted in realization that medical radiation constitutes as the largest source of average annual radiation exposure among the general population. However, the detection, monitoring and controlling of these radiations provide a sign of relief. Following the aggregate radiation measurements can encourage various exercises that add to the objective of better patient care thereby decreasing the risk of acquiring dreadful conditions and ensuring better quality of life for the patients.
Worldwide, it is estimated that 60 million diagnostic nuclear medicine examinations have taken place in the last two years, of which U.S. accounts for approximately 49%. Government agencies help keep the danger to the public from radiation as low as possible. For instance, the U.S. Environmental Protection Agency have been assigned the task of radiation protection responsibilities in the U.S. Similarly, Radioactive Incident Monitoring Network (RIMNET) in the U.K. function with the same objective. Furthermore, current market players are actively developing imaging equipment in compliance with the radiation regulatory guidelines. The U.S. currently accounts for more than 95% of radiation transmitted from medical use majorly attributed to man-made sources. This data is helpful in estimating the scale at which radiation is affecting. In addition, certain other research studies proved that, 3% of cancers occurring worldwide are due to exposure to radiation from diagnostic imaging.
Over the span of last 15 years, technological developments in medical imaging industry have resulted in use of higher-dose procedures, particularly computed tomography and cardiac nuclear imaging platforms. The increased use of CT is attributed to consistent technological ease coupled with improved reliability renders this technique to be an indispensable platform. All these phenomena have led to the increasing need for automated dose monitoring systems capable of individually tracking cumulative radiation dose exposure in patients.
In summary, radiation exposure from medical imaging has increased dramatically in the past three decades as imaging technology has improved. But the development of dose monitoring systems and services is expected to reap significant benefits to the imaging industry, resulting in improved and managed care delivery and control the risks of radiation associated with medical imaging.

In-depth report on global radiation dose monitoring market by Grand View Research:
http://www.grandviewresearch.com/industry-analysis/radiation-dose-monitoring-market