Reflective materials are made up of tiny glass beads embedded on the surface. Each bead is a rounded mirror that shines back directly to its source irrespective of the angle which the light shines. These materials are made up of a vast number of optically qualified glass beads which are about the three-fourth size of a human hair, encapsulated lenses or micro prisms. Such glass beads or micro prisms are tightly packed together and are coated with a thin aluminum film from the backside.
Due to its remarkable properties, it is widely used in manufacturing a broad range of products including fabrics, sheets, coatings, paints & inks, tapes, films, and others. These materials are easily incorporated in all kinds of garments and accessories from high performance active wear to work wear like a safety vest. The production of all the products manufactured by utilizing such materials uses the principle of retroreflection.
Graphical representation of a typical surface coated with reflective material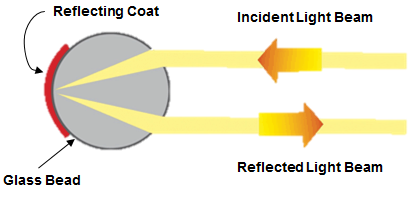 The growing traffic problems and rising number of road accidents, improving the road infrastructures for safety and maintenance are considered to be the need of the hour. Road accidents are caused due to various reasons such as driver's fault, a defect in the condition of the vehicle, dangerous road conditions and others. However, many of these accidents also occur owing to inclement weather, poor light, an absence of warning sign boards, or reduced visibility. Moreover, the lack of sign boards is one of the leading causes of traffic jams. For this reason, reflective materials are used in managing traffic and road safety which is expected to drive the market in the coming years.
Moreover, to prevent and reduce the accidents caused on account of lower visibility ratio during the night, or during adverse climatic conditions such as fog, or clouds; reflective materials are used in various road infrastructures. Different types of materials are utilized such as retro-reflective sheeting or films in the road sign boards to show directions, warnings, or any other traffic signs. Similarly, glowing tapes or paints are used to mark the roads.
Likewise, the reflective fabrics are also being used in numerous safety wears, such as life jackets, hats, gloves, etc., which are widely used by workers globally. They are made of base cloth, adhesives, and micro glass beads, along with some processing technologies such as coatings, composites, and hot pressing. The production of these fabrics is based on the principle of retroreflection.
Fluctuations in the raw materials prices such as copper, aluminum, glass beads and micro prisms, are considered to be major factors restraining the market growth. Stringent regulations along with volatile supply-demand position are expected to hinder the industry growth.
North America witnessed high demand on account of increasing consumer demand for innovative technologies and continual spending by road & transport sector on improving safety. Asia Pacific is anticipated to be the fastest growing market of reflective materials. Demand from Chinese and Indian customers for customized products based on their specific requirements is expected to surge the market growth in the next nine years.
Major manufacturers include Avery Dennison, 3M, Denki Kagaku, ORAFOL, DM Reflective Material, SKC CO and other independent players. These global players are also engaged in the production of bio-based printing and inks to reduce the carbon footprints and provide green solutions to customers globally. Some of the companies are involved in various downstream processes to reuse the raw materials and ease the environmental pressure.

In-depth report on global reflective material market by Grand View Research:
http://www.grandviewresearch.com/industry-analysis/reflective-material-market