"Well-framed regulatory policies for R&D and clinical applications of cell-based therapies in developed and emerging economies makes significant impact on the industry."
Industry: Healthcare
"Regenerative medicine" is an emerging scientific and medical field that offers therapies to treat diseases by regaining and/or restoring structure and function of damaged organs, tissues and cells. These medicines regenerate body's ability to restore the functions and structure as a part or whole treatment protocol. Strong pipeline of products for the treatment of cardiovascular, neurodegenerative, oncology, and rare genetic disorders exists. Ability to cure the incurable diseases reflects high market potential over the coming years.
Regenerative medicine & Stem Cells
Regenerative medicines typically bring up stem cells, especially embryonic stem cells, into focus for their ability to differentiate into other cell lines. A portion of regenerative medicine comprises of stem cells including induced pluripotent as well as embryonic stem cells. Stem cells can further self-renewed, proliferated, or differentiated into cells lines as per need. Therapies using these cells are in later phases of clinical trial for treatment of neurological disorders such as Parkinson's diseases and Alzheimer's. For instance, trials are conducted for dopamine neuron transplants using stem cell-derived neuron to treat Parkinson's diseases. However, considering advances of regenerative medicine solely to be dependent on the developments in stem cell research would be wrong. Other resources such as scaffolds, transplants, biomaterials, drug therapies, simulation pathways, and machines & electronics are used to restore cell, tissue, and organ functions.
Potential Applications of Stem Cell Research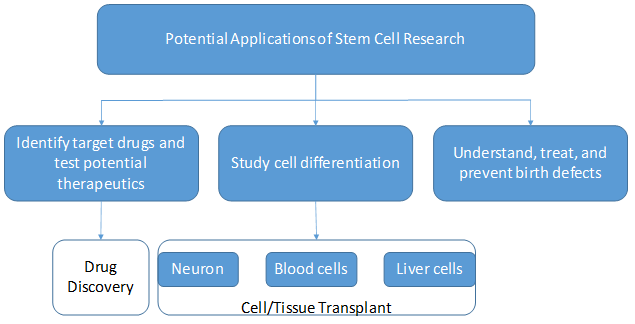 Hematopoietic Stem Cells (HSC)
Autologous HSC is clinically adopted for treatment of numerous hematological conditions such as sickle cell anemia, multiple myeloma Hodgkin's lymphoma, non-Hodgkin's lymphoma, and β-thalassemia. The clinical translation and efficiency of these cells are increased by combining the treatment with therapeutic drugs. For example, Plerixafor (AMD3100) in combination with granulocyte-macrophage colony stimulating factor for the treatment of non-Hodgkin lymphoma by autologous stem cell transplantation.
Regenerative Diseases & Nanotechnology
In recent years, nanotechnology has considerably accelerated progress of regenerative medicine. Revolutionary designing of scaffolds and grafts that significantly enhance tissue and cells regenerative properties grafts. Traditional nanotechnology approaches in regeneration include nanoparticles themselves, scaffolds with nanotopographic modifications, scaffolds with nanofibers, drug/gene delivery, and extracellular matrix (ECM) patterning. Combination of traditional and novel approaches are currently used in bone, skin, cartilage, nerve, myocardial, dental, ocular, and hepatic regeneration.
Competitive outlook
Major biotechnology and pharmaceutical companies have extended their business segments to regenerative medicine identifying its immense potential in healthcare. Emerging cell-based and stem cell companies are also witnessed to rapidly progress in the industry. Strategic collaborations with research and academic institutes are anticipated to make significant contributions to the strong product pipeline in clinical trials. Furthermore, companies are observed to make high investments in R&D to discover novel approaches to treat major and rare diseases with no cure available. Significant R&D is reported to develop cure for neurodegenerative diseases, especially age-related macular degeneration (AMD); oncology; heart & metabolism related disorders; and genetic disorders.

In-depth report on global regenerative medicine market by Grand View Research:
https://www.grandviewresearch.com/industry-analysis/regenerative-medicine-market