The global savory snacks market has evolved a lot since the 1990s when the industry was represented by few brands such as Doritos and Cheese balls and there were few other regional brands. The demand increased rapidly after 2000 when PepsiCo brought Lays and Cheetos to the market. Since then, many global and regional companies have entered into the industry with diverse offerings.
The savory snacks have become one of the fastest growing consumer products around the world. Major industry players have been fortifying the product in order to market them as a healthy snack. The market in the initial days was dominated by salty chips. The introduction of an extrusion process for the manufacture of snacks has led to many companies diversifying their portfolio to include extruded snacks.
Global Savory Snacks Market, By Product, 2015 (USD Billion)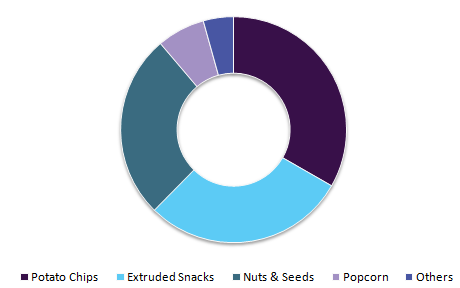 The industry has undergone a lot of changes in terms of consumer habits and growing demand for extruded snacks. The growing urbanization and rise in the number of double income households have resulted in changing consumption patterns of the population in the food category. This has fueled the demand for the product as consumers are adopting on the go eating habits.
The sudden rise in disposable incomes among the population has increased exploration of the different snack brands available in the market. Consumers are now switching from branded to unbranded snacks, especially in the traditional segment, given the growing concerns about quality and availability of branded options in the market.
Over the past years, the industry has undergone a lot of changes such as the expansion of snacks product portfolio by major players through continuous product innovations and aggressive marketing campaigns to establish consumer interaction. In addition, the emergence of new global & local players and increasing demand for convenience food is expected to augment growth.
Going ahead, the industry outlook remains positive as new flavors are being introduced. However, players will need to direct their efforts on rapid new product development to combat the growing industry competition. While consumers have started purchasing branded products, the unbranded market size is still huge. Also, there are a lot of traditional savory snack categories for which branded options are still not available, which represents both an opportunity as well as a threat.

In-depth report on global savory snacks market by Grand View Research:
http://www.grandviewresearch.com/industry-analysis/savory-snacks-market