Scars commonly develop in almost every individual's body. These form naturally as a part of healing process of any wound. Scars commonly occur in the form of acne; however, there are other types of scars experienced by people. These include surgical scars, injury scars, burns or contracture scars, hypertrophic scars, keloid scars, and stretch marks. Acne scars are also segregated into ice-pick scars, rolling scars, and boxcar scars. Appearance of scars has adverse effects on the esthetic appeal of a person. It affects the daily lifestyle of the victim, making them publicly uncomfortable. Hence, esthetics plays a very important role in contributing toward the high demand for scar treatment products, especially amongst the women population. It helps in skin rejuvenation through complete scar revision, thereby, improving their esthetic appeal.
Global scar treatment market share, by region, 2015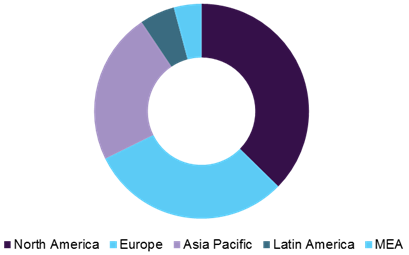 Topical products are most commonly and frequently used by people for treating scars. They help reduce or smoothen marks usually caused by minor cuts or acute wound injuries. Moreover, topical products such as creams, gels, and silicone sheets are very useful for acne treatment. These are easily available as Over-the-Counter (OTC) products, which have wider application in scar treatment. Silicone sheeting is the most effective noninvasive topical treatment executed by healthcare professionals in hospitals, clinics, and burn centers, which minimizes scar visibility and helps restore normal skin color. Hence, topical products are capturing majority of the scar treatment market.
Laser instruments are considered as an emerging segment in the market, boosting the demand for scar treatment through plastic and cosmetic surgeries. Technological advancements are further expected to support growth of these laser products. For instance, CO2 and pulse-dyed are some of the advanced laser technologies used for scar treatment. Steroid injections also help in treating hypertrophic, keloid, and acne scars nonsurgically. They facilitate softening of the scars that stick out. These products are expected to contribute significantly toward the market growth in the near future.
Growing number of road accidents often lead to wound injuries, which results in visible scars. Scar treatment helps in reduce visibility of such scars. Road accident victims also undergo cosmetic surgeries with laser treatment for scar revision and skin rejuvenation. Surgical procedures also result in development of scars; however, they can be minimized with the help of topical creams and gels.
American Burn Association stated that around 44% of all hospital admissions results from burn injuries. Contracture scars arising out of burn injuries restrict the victim's ability to move the scarred area as the burn shrinks and tightens the skin. These scars disrupt the esthetic appearance of a victim and, eventually, disturb his or her normal lifestyle. People with severe and diffusive contracture scars often choose plastic surgery to restore their esthetic appeal. However, there are many topical gels and creams that help in heal acute burn scars, making them less noticeable. For instance, Merz, Inc. developed Mederma Advanced Scar Gel for the treatment of contracture scars.

In-depth report on global scar treatment market by Grand View Research:
http://www.grandviewresearch.com/industry-analysis/scar-treatment-market