Sepsis is a bloodstream & infectious disease that occurs as a result of presence of pathogenic microorganisms in the blood. According to the National Center for Biotechnology Information (NCBI), the number of patients suffering from sepsis rose from 200,535 in 2007 to 279,530 in 2013. This has led to an increasing need for rapid diagnosis of sepsis, thereby, further triggering the demand for sepsis diagnostic tools for quick & efficient outcomes. The Sepsis Alliance reported that in the U.S. nearly 258,000 people suffering from sepsis are likely to die every year. On the other hand, neonatal sepsis also results in a high death rate. Such alarming mortality rate is expected to foster the growth of sepsis diagnostics market in the near future.
Global sepsis diagnostics market share, by region, 2015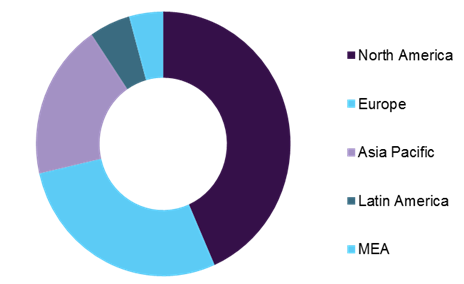 Sepsis is a result of numerous hospital-acquired infections such as surgical site and urinary Tract Infections (UTIs). Rising number of surgeries have led to increasing postoperative infections, which give rise to severe sepsis. In some cases, surgical site infections result in septic shock. Moreover, prolonged hospital stays also lead to infections that cause sepsis. UTIs are commonly caused due to the insertion of catheter in the patient's body during prolonged hospital stays.
Pneumonia is also considered to be one of the major leading causes of sepsis. Sepsis in pneumonia is acquired due to infected lungs and commonly affects both children and adults.
High cost of the automated diagnostic instruments and lack of awareness for sepsis are expected to impede the market growth in the near future. Hence, many laboratories with low affordability to incorporate automated diagnostic instruments are opting for conventional mode of identification of pathogens causing sepsis.
Blood culture media and assay kits & reagents are being highly adopted by the laboratories for quick diagnosis of sepsis. These are convenient and cost-effective diagnostics methods delivering accurate results. Microbiological technique undertakes blood culture tests for detection of pathogens that cause sepsis. In addition, molecular diagnostics is a tool that is effective for fast identification of pathogens, which is more efficient than blood culture tests. However, this technique has a low adoption rate, since it is expensive.
The North American region has a huge mortality rate caused by sepsis, and this disease is one of the leading causes of death in countries like the U.S. Though sepsis accounted for only 10% of hospitalized patients in the U.S., more than half of them contribute toward hospital deaths. On the other hand, India is approaching toward the success of introducing novel sepsis diagnostic tests, such as "Sepsiscreen" test, developed by an India-based diagnostic chain, SRL Diagnostics, in order to cater to the unmet needs of the target population. This has resulted in growing opportunities for the major companies to serve the developing countries with innovative sepsis diagnostic products.

In-depth report on global sepsis diagnosis market by Grand View Research:
http://www.grandviewresearch.com/industry-analysis/sepsis-diagnostics-market