Based on the report published by the CNN International Edition in October 2015, a rapidly growing number of women visiting fertility clinics is creating a void between demand and supply of sperms. The increasing need of sperms for managing infertility is one of the crucial factors expected to boost the market over the forecast period.
In October 2014, the Britain government had set up National Sperm Bank with government grant of approximately USD 77,000 to tackle the shortage. However, the sperm bank had stopped its donor recruitment after 2 years of its launch, since the bank was unable generate income out of it. The huge shortage of donors is further expected to drive demand in the international market, thus, expanding fertility tourism market over the forecast period.
Number of newly registered sperm donors in the UK, 2004 - 2013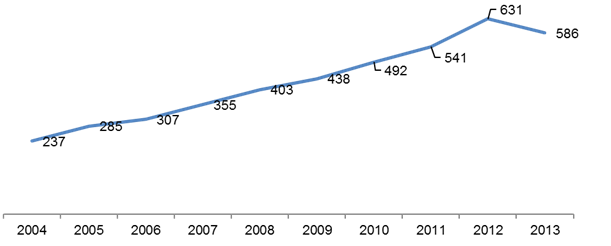 Some of the countries that reported sperm shortage are China, New Zealand, U.S., and Israel. The demand for quality sperm in China is growing at a rapid pace after the announcement of the new two-child policy. The country is dominated by aged population, which expands the opportunity for alternative conception sources, such as assisted reproductive procedures. The Chinese population reportedly exhibits poor sperm quality, owing to excessive alcohol and tobacco consumption. Moreover, the report published by the China's Human Sperm Quality Research, stated that nearly 40 million people are infertile in this country; this is expected to boost the demand over the forecast period.
Cryos International is one of the largest global sperm bank. It exports its product to over 80 countries and has also announced that it exports approximately 96% of the production. The growing number of registered donors and increasing sperm importation are some of the factors expected to drive the market over the forecast period. Cryos has also relocated from New York to Central Florida Research Park near the UCF campus. The growing engagement of key players in rapid technological advancements is expected to boost the market over the forecast period.

In-depth report on global sperm bank market by Grand View Research:
http://www.grandviewresearch.com/industry-analysis/sperm-bank-market