Medical equipment sterilization is one of the most significant procedures in hospitals, laboratories, and other medical institutions. Hospitals are quite prone to various microorganisms such as bacteria, fungi, and viruses that can cause serious health complications to patients. With usage of non-sterilized instruments, there is a very high chance of transmission of a disease from one patient to another, leading to various hospital-acquired infections. According to the World Health Organization, out of 100 hospitalized patients, 7 in developed and 10 in developing countries acquire at least one healthcare-associated infection. Furthermore, increasing initiatives taken by various healthcare facilities in order to follow the infection control norms as well as to spend on advanced healthcare services will also aid in the market's expansion.
Global sterilization equipment market, by region, 2015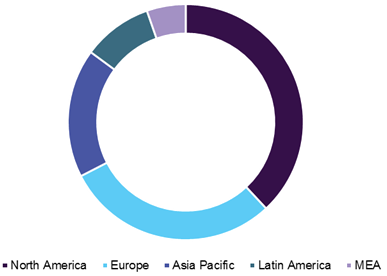 Based on the technique, the sterilization equipment market is categorized into heat sterilization, low-temperature sterilization, filtration sterilization, radiation sterilization, and liquid sterilization. The market for heat sterilization technique occupied the largest market share in 2015, as the technique is the most widely used as a reliable method of sterilization.
The market for low-temperature sterilization is expected to foresee the fastest growth rate during the forecast period. Low-temperature sterilization technique is compatible with the most delicate medical equipment such as packaging material, device lumens, and plastics. Furthermore, the technique is extremely easy-to-operate, control and monitor, thus driving the market growth in the near future.
Based on the end-user, the sterilization equipment market is segmented into hospitals, pharmaceutical companies, medical devices companies, clinical laboratories/research centers, and others that include food & beverage companies. The hospitals segment occupied the maximum market share in 2015. Increasing number of hospital-acquired infections, growing number of surgeries performed, and the presence of a large volume of patient enrollments are the factors responsible for the growth of hospital end-user segment in the sterilization equipment market.
The sterilization equipment market is consolidated with a few companies leading the market. Some of the top companies operating in this market are STERIS Corporation, Getinge AB, and Advanced Sterilization Products Services, Inc. Other companies include 3M; Belimed; Cantel Medical; MATACHANA GROUP; Sterigenics International LLC; and TSO3.
A number of companies aim to launch new products & technologically advanced sterilization equipment in order to expand sales and gain a foothold in the fast-developing medical devices sector. Furthermore, advanced R&D ventures, partnerships, and collaborations for the development of next-generation products are some of the strategies that would result in considerable development for various companies.

In-depth report on global sterilization equipment market by Grand View Research:
http://www.grandviewresearch.com/industry-analysis/sterilization-equipment-market