Escalating advancements in information technology have encouraged the adoption and implementation of IT systems and generated distributed information systems in industries and organizations. This is creating the demand for integration of distributed systems. The main drivers of the systems integration market are the high investments in distributed IT systems.
Further, the ability of users to add more servers, depending on demands from numerous applications, is driving the acceptance of virtualization and web-based services. The virtualization software allows simultaneous use of multiple applications and operating systems on the same server.
Clients and data centers are driven toward virtualization, as it helps in reducing IT operation expenditures and acquisition costs, while increasing flexibility, utilization, and efficiency of their existing computer hardware. It also provides increased control in a complex environment.
Cloud computing offers economical solutions to organizations and enables access to expensive technology infrastructures. The benefits of cloud integration solutions & services, including utility style costing, absence of single point of failure, scalability, location independence, and lack of investments in hardware, promote their acceptance & implementation. Various institutions, such as financial services and software organizations, benefit from cloud computing.
Global system integration by services, 2015 (USD Billion)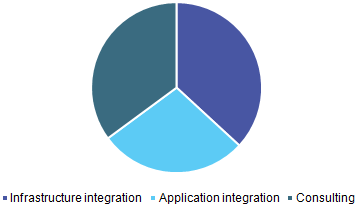 The graph above suggests that the infrastructure integration segment accounted for a significant share in 2015. This is attributed to the rising need for providing a unified IT infrastructure that is resilient, agile, and secure while monitoring costs.
In addition, the existing complex business environment has instigated enterprises to continually evolve and adapt to the new IT infrastructure. This is expected to drive the demand for infrastructure integration over the forecast period.
Analyst Perspective
A rapid growth in the Asian economies has ensued increased investments in the systems integration market. The Asia Pacific region is witnessing mounting investments, particularly in the defense & security segment, as people are becoming aware of safety concerns and pursuing proactive actions to counter vulnerabilities.
Further, in view of terrorist threats, infrastructure security, public area security, and cyber securities surface as the major drivers demanding higher levels of usability, business continuity, integration, and off-site command & control.
The growing espousal of cloud computing and big data technologies, coupled with increasing virtualization trends, is projected to spur the system integration market over the forecast period. However, a lack of standardized framework and high investment costs are anticipated to hinder the market growth in the near future.

In-depth report on global system integration market by Grand View Research:
http://www.grandviewresearch.com/industry-analysis/system-integration-market