Textile manufacturing includes extensive process stages of chemical and nonchemical treatments. The finishing technique includes usage of different types of chemicals during pretreatment & preparation, dyeing, printing and modification of fabrics. More than 60% of the various textile chemical product classes are utilized in fabric pretreatment, yarn formation, textile laminating, coatings, textile finishing, and other miscellaneous application. Due to fabric chemicals importance in the textile processing, its market is expected to witness a high growth in the coming years.
Certain Textile chemicals are specialty substances such as flame retardants, biocides, wrap sizes and water repellents. While others are relatively simple chemical mixtures such as starch, emulsifies oils, waxes, surfactants, and sulfonated oils.
Textile chemicals improve and optimize the manufacturing process and endow the final product with a particular function or a special desirable appearance, like greenhouse fabrics that reflect the sun, flameproof furniture fabrics, durable airbags for vehicles, and many such textiles. Modern textiles are almost impossible to produce without chemicals. During the manufacturing process, textiles have to go through a long process of chemical and non-chemical treatments.
Textile manufacturing is a very complex process and involves various stages and different chemicals are used at every step. The initial phase includes fiber processing and ends at manufacturing of finished products.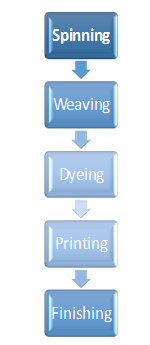 In the past few years, there has been a shift in the consumer demand for environment-friendly and natural products in the last few years. To cater to the evolving consumer needs and to meet the regulatory frameworks, textile chemical manufacturers have come up with new and upgraded technologies.
The industry is developing novel textile products with advanced functions that include protection and high performance materials, by implementing nanotechnology and biotechnology techniques, unique lamination formulas, innovative ink-jet and lamination methods. New products were invented in medical and industrial textiles, in agro and geotextiles, wearable electronics and construction.
Clothing is treated to provide unique selling points including a soft finish to offer extra comfort and performance stain and wrinkle resistance, and antimicrobial properties. Clothing is specially treated to give it unique selling points such as wrinkle-resistance, antimicrobial properties, and a soft finish to provide extra comfort and performance.
Production trends in textile industry include the development of new apparel dyes & stains and to provide wellness, comfort, care, and freshness to the product. Microencapsulation technologies contain deodorants, moisturizers, and repellents that release active ingredients by gently rubbing them. Cyclodextrins, which is a cyclical sugar-type molecule, helps to capture unpleasant clothes and body odors like sweat.
Growing apparel industry is expected to be a key driver for market growth over the next nine years. Almost 75% of this market is concentrated in EU-27, USA, China, and Japan. Regarding population, these regions are home to only one-third of the world's people; signifying high per capita spends on apparel in these developed markets. Growing technical textiles demand is expected to augment the demand for textile chemicals over the forecast period.
Asia Pacific dominated the global textile chemicals market while accounting for 56% of the total demand in 2015. The regional market is predominantly characterized by rapid industrialization and emergence of various manufacturing hubs including those of the emerging economies including China, India, Bangladesh, Taiwan, and Thailand. North America was another major textile chemical consumer with U.S. being the frontrunner.
In 2015, China dominated the textile chemicals market, which is a largest exporter and manufacturer of textile chemicals and accounted for around half of the global value. The major drivers include ever-growing apparel and textile production, high production of synthetic cotton & fibers, and rising domestic consumption.
Textile Chemicals industry is highly competitive due to the presence of most of the leading global industry players. Acquisitions continue to concentrate on the manufacturing and the supplier base. Similarly, technological innovation and product improvements are other key business strategies adopted by the global companies.
Companies such as BASF SE, Dow Chemical Company, Bayer AG, Huntsman International LLC and Sumitomo Chemicals Co. Ltd. accounted for approximately 45% of sales value in 2015. Other players having significant stake in the textile chemical industry include The Lubrizol Corporation, Evonik, Archroma, Kemira and Omnova Solutions Inc.

In-depth report on global textile chemicals market by Grand View Research:
http://www.grandviewresearch.com/industry-analysis/textile-chemical-market