Maintenance of body temperature within a normal range is a vital for survival of human life. Fluctuation in body temperature is the preliminary symptom of various infectious and metabolic disorders. Increasing level of patient awareness will prove imperative for this market growth on account of the fact that patients, especially the ones suffering from long-term diseases and chronic infections are widely using these devices for checking vital signs at regular intervals. Moreover, healthcare practitioners are increasing their dependency on the usage of these devices for checking the health status of the patients and deciding on treatment options.
The growing demand for self-healthcare as a result of increasing health-conscious population base and rising awareness amongst patients aimed at gaining better health status and reducing expenses associated with it are the major factors contributing to this market growth. On account of the growing demand for self-healthcare, manufacturers such as Nexcare and TERUMO CORPORATION have introduced portable products, which are user-friendly.
Global mercury-free thermometers market, by type, 2016 (USD Million)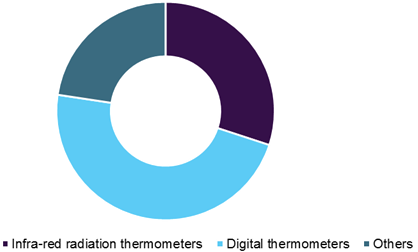 Vital sign for monitoring disease
The growing prevalence of target diseases causing fever such as dengue, malaria, typhoid, and swine flu is expected to serve this market as a high-impact rendering driver over the next six years. Malaria is one of the fatal disorders across the globe. According to the data published by the WHO, in 2015, around 3.2 billion people in 95 countries are at the risk of being infected with malaria.
There were over 47,000 cases of dengue reported in China owing to heavy outbreak in the Guangdong province at the end of 2014. Aseptic or traumatic fever is one of the primary symptoms of body injury. Monitoring of body temperature at regular intervals is very important to avoid further serious complications.
Technology advancement
Rapid technological advancements in temperature monitoring devices are also enhancing acceptance levels amongst end users. For instance, temporal thermometer TAT-2000C by Exergen can be used to measure the body temperature by just rolling it on the child's forehead.
To avoid contamination and degradation of food & beverages and retain the quality of temperature-sensitive eatables, maintenance of a specific temperature is required. Thus, thermometers have applications in the food industry too. Companies such as Tel-Tru provide a range of NSF-certified poultry/meat, food testing, and barbeque thermometers.
Asia Pacific- immense growth opportunity for generic drug industry
North America held the largest market share in 2016. Growing geriatric population base and the higher expenditure on healthcare are some of the key factors attributing to its large market share. The prohibition of mercury-based thermometers from major states of the U.S. are also expected to increase the usage of digital thermometers.
Asia Pacific is expected to witness significant growth over the coming years. Presence of high-unmet medical needs pertaining to the target disease segments, such as malaria, dengue, & swine flu; growing awareness amongst patients; and constantly improving healthcare expenditure in the region are some of the key factors attributing to the aforementioned conclusion.
Key market players
Some of the key players in this industry include Exergen Corporation; Omron Healthcare, Inc.; TERUMO CORPORATION, Citizen Systems, 3M (Nexcare), Innovo Medical, RADIANT INNOVATION INC., Good Neighbor Pharmacy, and Fairhaven Health, LLC.

In-depth report on global thermometer market by Grand View Research:
http://www.grandviewresearch.com/industry-analysis/thermometer-market