The 3PL market has continuously evolved as end-use industries have embraced outsourcing services to ensure better, faster and reliable delivery. 3PL services greatly reduce the costs of shipping, especially, for companies that engage in bulk shipments, on a regular basis. With increasing freight rates, shippers are in need of opportunities, to pull out costs from the supply chain.
The rapid adoption of logistics software and IT application for increasing the distribution coverage is expected to boost the demand for 3PL services. Companies such as Wal-Mart, Kale Consultants and Wipro have made it essential for their logistics partners to deploy the use of upgraded logistics services and technologies.
However, the industry has witnessed a decline due to uncertain economic conditions, fluctuation in fuel prices, and lower transportation costs. The logistics industry is facing the challenges of labor shortage, which requires 3PLs to leverage their employees and provide value-added solutions to their shippers. However, the advent of automation has reduced the impact of labor shortage to a certain extent by the adoption of technologies such as crowd-sourced packaged deliveries, autonomous vehicles, and drone-based deliveries.
3PL market, by transport, 2015 (USD Billion)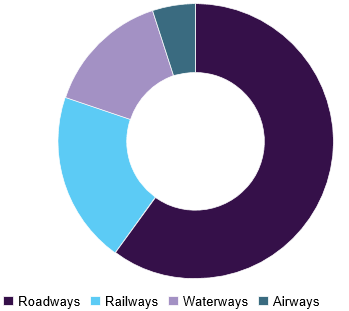 Transport Management Systems (TMS) have been increasingly deployed by 3PL providers over the last few years. TMS help companies to freight to their destination in a more efficient, reliable, and cost-effective manner. TMS includes planning and execution and fleet management solutions. The technology aids companies in achieving considerable cost savings by lowering their freight spending. TMS helps in enhancing transportation efficiency, providing real-time dashboards, enabling better decision-making, and handling numerous tasks that cannot be addressed by spreadsheets, faxes, and phones. The business customers and end-use industries have become increasingly demanding with quicker deliveries at low prices.
The competition within the third party logistics arena is ramping up, owing to the tightened capacity coupled with increasing consolidations. Moreover, 3PL providers are differentiating themselves by offering innovative solutions and allowing information sharing with their partners. The key innovations include incentivized scheduling, route optimization, and real-time electronic tracking. Small and medium 3PL providers are gradually embracing these innovations, as they are deterred by the high costs of implementation and maintenance. Recently, Amazon India developed a platform for utilizing third-party logistics services to optimize the cost of delivery and extend their reach.

In-depth report on global third party logistics (3PL) market by Grand View Research:
http://www.grandviewresearch.com/industry-analysis/third-party-logistics-market