Patients with complicated congenital heart defects are primarily subjected to various open-heart surgeries, which come with huge morbidity rate and incremental risks. The growing demand for less invasive heart valve replacement surgeries is one of the pivotal factors that is driving more investment and technological advancement in this market.
In September 2000, Melody Transcatheter Pulmonary Valve (TPV) Therapy was the first successful percutaneous pulmonary valve implantation. Over the last decade, there has been a drastic change in the culture of novel treatment options for pediatric and adult cardiovascular surgeries. Currently, there are three commercially available pulmonary valve implantation devices, namely Melody Valve, Edwards SAPIEN valve, and CryoValve SG Pulmonary Human Heart Valve. The presence of such smaller product base as on 2016, indicates xx million market of global transcatheter pulmonary valve market in 2016.
However, the growing number of clinical trials with the existing product portfolio for expanding various other indications such as Pulmonary Valve Insufficiency and Tetralogy of Fallot is one of the crucial factors that is expected to boost the market over the coming few years.
The final clinical outcome of ongoing clinical trials, by year (in percent)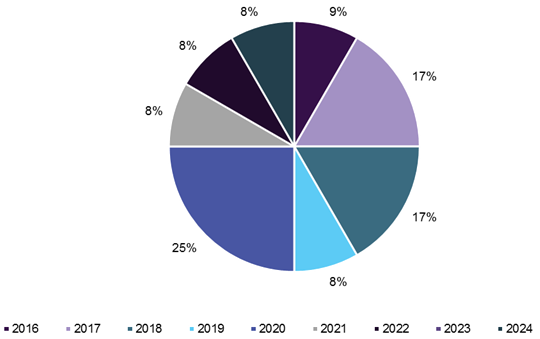 Moreover, the growing number of ongoing clinical trials by various players such as Edwards Lifesciences Corporation, Medtronic, and CryoLife is one of the factors that is expected to expand the indications for the present product portfolio and thereby surge the usage and adoption rate of the product. The above mentioned pie charts represent that approximately 75% of the ongoing clinical trial will be ended and the market will experience various new product launch, which is expected to propel the market growth. Since, there are only three transcatheter pulmonary valve systems launched in the market currently, the product portfolio of other players is poor. However, the scenario is expected to change in the recent future on the basis of registered clinical trials for the new products.

In-depth report on global transcatheter pulmonary valve market by Grand View Research:
http://www.grandviewresearch.com/industry-analysis/transcatheter-pulmonary-valve-market