Major raw materials for plastic compound production include polymers, resins, additives, fillers and other materials utilized to strengthen and enhance product properties while processing the final product.
The production of plastics undergo many important process steps to generate homogeneous plastic compound from different number of raw materials such as conveying, plasticizing, melting, mixing, homogenizing, blending, dispersing, devolatizing, heating/cooling, and pressurizing.
Plastics can be fabricated via various processes including compounding, extrusion, welding, lamination, and molding among others. However, the diverse processes for compounding polymers include the following:
Batch Mixing
Earliest blending technology, used initially to mix and prepare natural rubber compounds. The machine found diverse applications in food and beverage industry and for wire coatings. Batch mixers are utilized to mix small to medium pre-defined quantities of raw materials which are discharged in one single lot. Batch mixer productions are generally measured in kg/batch.
These are further segmented into non-intermeshing rotor mixers (internal mixer) and intermeshing rotor mixers. The first type of internal batch mixer was initially open from the top, allowing chemicals to escape into atmosphere. However, continuous improvements in design and process have made non-intermeshing rotor mixers an ideal option for compounding high volume polymers.
Advantages for batch mixers include precise quality control, mixing time control, flexibility of production as well as lower installation costs and maintenance. However, certain restraints such as non-economical large scale production and higher labor intensity are expected to hamper batch mixer market.

Continuous Mixing
These mixers are dedicated to constant production of a single high volume product. Raw materials are continuously added into the mixer as per determined formulation. Output from these mixers is also continuously discharged and is measured in kg/hour.
Further segmentation includes single screw extrusion, co-rotating twin screw extrusion, tangential counter-rotating twin-screw extrusion, modular intermeshing counter-rotating twin-screw mixer and modular buss kokneter. Advantages for continuous mixers include low hold-ups, efficient dispersion of minor ingredients, high capacity, minimum segregation, low costs and minimum labor.
However, certain disadvantages including lack of flexibility, equipment breakdown, controlled feeding and component limitations are present. Generally, preference for batch or continuous mixer depends upon various factors such as requirements for multiple product formulations, post-mixing operations, material handling equipment, pre-mixing operations, desired homogeneity standards of final product and the actual quantity of ingredients to be mixed.
Turkey new vehicle sales, 2010-2015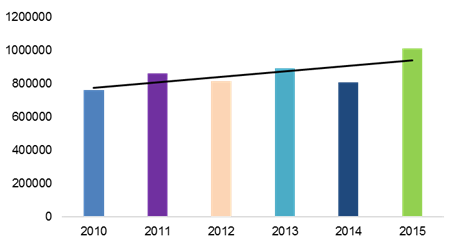 Turkish automotive industry is growing at a rigorous pace with new strategic investments in the upcoming years to achieve high targets. Product features and technologies are anticipated to reach new heights, driven by new players and changing customer behavior. Passenger car sales have recovered tremendously post-recession and is expected to maintain the steady growth rate.

In-depth report on turkey automotive plastic compounding market by Grand View Research:
http://www.grandviewresearch.com/industry-analysis/turkey-automotive-plastic-compounding-market