Ultrasound image analysis software is increasingly used in the present scenario owing to high demand for 3D&4D medical imaging in the developed as well as developing economies. A significant rise in government funding and investments across a wide array of healthcare services is anticipated to present the market with potential growth opportunities. In addition, growing acceptance amongst surgeons and radiologists toward these tools is also predicted to be one of the prominent growth contributing factors for the market. Moreover, increasing usage of these software, specifically in oncology and cardiology applications is responsible for widened scope for the growth.
3D ultrasound imaging software analysis is emerging at a fast rate in the field of obstetrics and gynecology. An added feature of 3D imaging technology is that it provides clearer images of the baby, which helps enhance the psychological bonding between the mother and the child. 3D ultrasound imaging technology has a great potential in R&D in the field of fetal embryology; however, most of the diagnosis is conducted with 2D technology as recommended by the experts.
In the field of gynecology, ultrasound imaging helps in the visualization of female pelvic organs, including uterus, ovaries, bladder, and others. It enables detection of ovarian torsion and helps with diagnostic capability to identify pelvic inflammatory diseases. Ultrasound imaging software for obstetrics and gynecology helps provide software tools for efficient ultrasound image storage and Picture Archiving and Communication System (PACS) integration. ViewPoint 6 for OB/GYN, by GE Healthcare, is an ultrasound software solution designed to analyze images of obstetrics and gynecology medical examinations.
Global ultrasound image analysis software market, by software type, 2015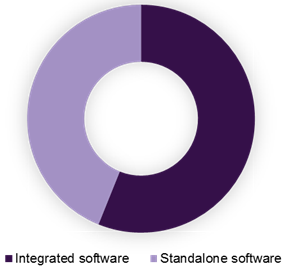 This clinical urgency to incorporate ultrasound analysis software across a wide range of applications can be attributed to the benefits associated with this software. This results in efficient diagnosis, thus creating considerable potential for growth. The benefits include point-to-point measurements, rapid enhancement of images, contour detection, multispectral classification of images, image restoration, and others.
The ultrasound image analysis software market is highly competitive in nature and has a considerable number of players, which have a high level of dominance over the overall revenue share. The most notable market participants are GE Healthcare, Philips Healthcare, Merge Healthcare Incorporated, Siemens Healthineers accounts for a considerable share of the market. These companies are extensively indulging into market sustainability strategies, such as strategic collaborations, new product development as well as mergers & acquisitions to maximize their industry share.
For instance, In September 2016, GE Healthcare entered in a collaborative agreement with Trice Imaging, Inc., a cloud-based medical imaging solution provider. This agreement was carried out to expand cloud-based image sharing capabilities, remote reviewing, diagnostic collaboration, archiving, and EHR integration to GE Healthcare's Ultrasound Women's Health product portfolio as well as facilitate real-time ultrasound sharing amongst clinicians. Furthermore, in November 2016, Philips Healthcare launched IntelliSpace Portal 9.0, a visualization and quantification software platform. This product launch was carried out to enhance and expand neurological diagnosis. The product possesses capability to streamline physician utilization and track as well as compare brain images & consequently facilitate determination of patient progress.

In-depth report on global ultrasound image analysis software market by Grand View Research:
http://www.grandviewresearch.com/industry-analysis/ultrasound-image-analysis-software-market