Wax melts are used as fragrance products and available in various fragrances, shapes, sizes, and colors. Increasing consumer demand for these products on account of rising income levels and growing requirement for air quality enhancement at homes is expected to stimulate growth over the next nine years.
Wax melts do not emit harmful emission and exposed flames, making them environment-friendly and safe for consumption. Rising consumer awareness concerning health and environmental hazards from alternative fragrance products, such as candles and aerosol sprays, will fuel demand. Moreover, stringent regulations for aerosol air fresheners are expected to create favorable opportunities for the usage of these products over the upcoming years.
Global air freshener demand, 2014 - 2025 (Billion Tons)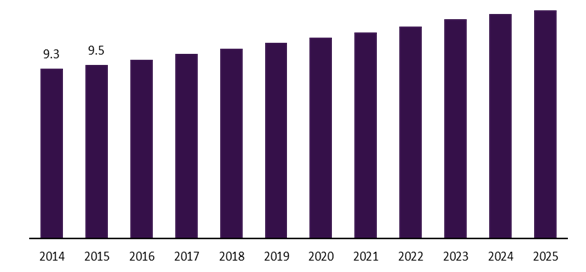 Raw material manufacturers are increasing their production capacity which is likely to aid in material sourcing. In 2013, ExxonMobil expanded its Group II base oil production capacity in Baytown, Texas, U.S. This is expected to lead to an increase in the output of paraffin wax, which in turn, will positively impact the market.
Alternatives, such as aerosol sprays, are not long lasting, whereas a large number of consumers prefer long lasting fragrances. Rising focus on long lasting fragrances coupled with continuous product development by manufacturers is expected to aid in industry expansion.
North America was the leading market and is expected to witness significant gains over the upcoming years on account of growing demand for maintenance of home atmosphere and hygiene concerns. With the increase in income levels, consumers are spending more on products to enhance air quality at homes, which is expected to increase the consumption of wax melts usage in residential and commercial applications. Fragrance wax melts are used in residential and commercial buildings such as offices and shopping complexes.
The Middle East & Africa wax melts market is expected to witness considerable growth in light of rapid economic development, increasing living standards, and rising per capita income. Rapid industrialization coupled with improving infrastructure in the Middle East is expected to impact market demand positively. Moreover, the increasing popularity of aromatherapy, abundant availability of raw materials, and growing consumer interest in natural perfumes, fragrances, and personal care products in countries including UAE, Saudi Arabia, South Africa, and Qatar is expected to aid in market expansion.
The industry is fragmented in nature owing to the presence of a numerous number of large and small manufacturers. Key participants in this industry include Yankee Candle, Scentsy, SC Johnson, Reckitt Benckiser, and Rimports Limited.
Manufacturers are focusing on developing wax melts that come with long lasting fragrance with an attractive packaging of the products. These manufacturers are introducing new fragrance blends to gain an advantage over competitors. Furthermore, various companies are focusing on developing an extensive range of aesthetically appealing and pocket-friendly wax warmers. These factors as mentioned above are expected to create immense growth potential over the upcoming years.

In-depth report on global wax melts market by Grand View Research:
http://www.grandviewresearch.com/industry-analysis/wax-melts-market