Western blotting is considered as a useful analytical testing tool in the field of molecular biology and immunogenetics for detection of proteins in the patient's blood. This testing method helps in the detection of HIV through human serum sample and is proved to be highly effective as compared to enzyme-linked immunosorbent assay (ELISA) tests. Healthcare professionals commonly prefer western blotting even after conducting ELISA tests for more accurate results.
According to UNAIDS, in 2015, 1.1 million people died due to AIDS throughout the world. With huge mortality rate resulting from AIDS, there is a growing need for western blotting tests for early and accurate diagnosis of this disease. On the other hand, western blotting is also very useful in diagnosing Lyme disease. It provides highly sensitive results with greater efficiency. Hence, western blotting is an efficient testing tool required to detect chronic diseases such as HIV, Lyme disease, mad cow disease, and Hepatitis B infection.
Blood doping is another important application in the field of western blotting. Detection of erythropoietin (EPO) in blood and urine by western blotting technique has been proved to be very effective. That is why, The World Anti-Doping Agency (WADA) widely uses this testing tool for identifying blood doping. For instance, in the 2014 FIFA World Cup, western blotting was used in the anti-doping campaign.
Global western blotting market share, by region, 2016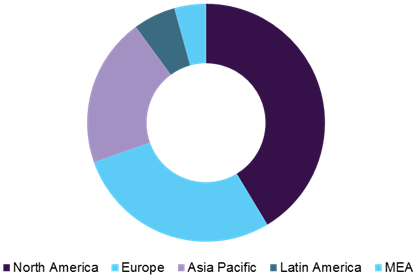 Western blotting is also significantly used in R&D activities conducted in academic and research institutes, and pharmaceutical and biotechnology companies. Increasing government initiatives to pool funds for R&D activities has led to huge growth for western blotting market. Pharmaceutical and biotechnology companies contribute significant amount of their revenue share in R&D activities. Investopedia reported that till 2013, major pharmaceutical companies spent nearly 20% of their revenue share in R&D activities. Furthermore, in order to compete with the global pharmaceutical companies, 25 leading Indian pharmaceutical companies stepped in increasing their investments in R&D activities, and the share raised by 28.8% during 2014-2015.
Western blotting is also widely applied in agriculture-based research. Genetically modified crops are being developed to a great extent using modern biotechnological tools. Thus, protein detection in the development process of genetically modified crops is largely done by western blotting technique. These crops, reflecting unique traits are highly beneficial to the farmers. Seed quality testing can also be effectively determined through this tool. Hence, the application of western blotting has been proved to be very useful for them.
With growing healthcare spending in the U.S., there is an expected rise in huge fund generation through governmental initiatives for R&D activities in such countries. This has led to huge growth for western blotting market in North American region. In addition, countries such as Japan, China, and India are emerging through the rising development in biotechnology and pharmaceutical industries in these countries. This is expected to exhibit attractive growth opportunities for the Asia Pacific region. Moreover, proteomics research is also growing to a great extent in these countries, which is further supporting the growth of the market.

In-depth report on global western blotting market by Grand View Research:
http://www.grandviewresearch.com/industry-analysis/western-blotting-market