Mostly, women and men have similar healthcare needs and challenges. Nevertheless, women need special attention during pregnancy and prenatal stages as they face comparatively more problems than men. The women's health issues are mainly increasing in emerging countries and need to be addressed by attention from caregivers. Thus, rehabilitation is essential for women to live a healthier life. Rehabilitation therapies, such as physical, occupational, massage, chiropractic, hydro or aquatic, vestibular rehabilitation, speech, and compression therapies help maintain women's health.
Rehabilitation programs include body training or exercise, monitoring of body vitals, education about healthy habits, and various other activities. Rehabilitation also helps reduce mental and physical disabilities; recover from acute or chronic injuries or illnesses; and restore physical, occupational, psychiatric, and cognitive functions.
A brief description about rehabilitation therapies has been mentioned below:
1. Physical therapy:
Physical therapy, also known as physiotherapy, is the process used for treating disease, deformity, or injury with the help of physical methods such as exercise and heat treatment. It helps in building strength, reducing stress, regaining independence, and retaining energy. In case of women's health, it is mostly used to treat issues related to the female reproductive system, pregnancy, and postpartum developments. It also helps address conditions such as osteoporosis, lymphedema, urinary incontinence, pelvic pain, and other disorders associated with pelvic floor dysfunction.
2. Occupational therapy:
Occupational therapy is the treatment of physical, mental, or cognitive disorders to help women recover, and manage daily activities such as dressing, bathing, and brushing. Occupational therapy finds application in orthopedic care, lymphedema management, anxiety & stress reduction, and fatigue management.
3. Massage therapy:
Massage therapy is the process of health optimization through manipulation of soft tissues of the body, specifically, muscles, tendons, joints, connective tissue, and ligaments. These are deep tissue, medical, clinical, or therapeutic massages, which are performed in clinics, hospitals, chiropractic offices, and homes.
4. Chiropractic therapy
Chiropractic therapy is a spinal manipulation or adjustment for diagnosis and treatment of neuromuscular disorders. Chiropractic treatments restore the structural integrity of the spine and reduce pressure on the sensitive neurological tissue, thereby resulting in improvement of women's health.
5. Other therapies
Other therapies such as hydro or aquatic, vestibular rehabilitation, speech, and compression therapies offer benefits and help regain health.
Global women's health rehabilitation products market, by region, 2015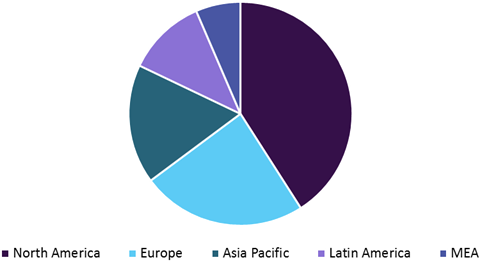 Women's health rehabilitation products: Market Snapshot
Rising worldwide prevalence of chronic diseases, such as osteoporosis, arthritis, breast cancer, and obesity, is expected to propel the demand for women's rehabilitation products over the forecast period.
Presence of favorable demographics and the trend of community-based rehabilitation centers assessing issues in women's health globally are helping boost demand for rehabilitation products across the world. Use of new technology such as virtual simulation, or wearables, and robotics in rehabilitation devices is gaining popularity worldwide.

In-depth report on global women's health rehabilitation products market by Grand View Research:
http://www.grandviewresearch.com/industry-analysis/womens-health-rehabilitation-products-market