What is WDSD?
According to ds-int.org, WDSD is an acronym for 'World Down Syndrome Day' (WDSD) which is celebrated on 21st March every year to encourage well-being and inclusion of and create one global voice that advocates the rights of people with Down Syndrome. Also, in this direction, the DSi (Down Syndrome Internationale) network is campaigning for the right to legal capacity based on the theme 'With Us Not For Us' on WDSD.
Down Syndrome: An Overview
The multiple causes of Down Syndrome are however unknown. To date, the only known source of this condition remains the abnormality of cell division. It occurs when a fetus develops an extra partial or whole copy of chromosome21 at birth. This means, that the child has developed three copies of chromosome21. These extra pairs further develop at the genetic level which is later responsible for developmental and characteristic features in an individual after birth.
There is no evidence for environmental or behavioral factors to cause Down Syndrome in humans. Also, scientifically, there is no proof for cases where Down Syndrome has been inherited from parents to children.
It mainly occurs due to abnormal cell division in the fetus during the early development stages. However, parents having one child with Down Syndrome are at increased risk of having another child with autism. Other conditions like advanced maternal age and the possibility of genetic translocation develop a high chance for developing a disorder. Genetic translocation is a condition when a portion of chromosome21 attaches to another chromosome during conception.
People with autism are exposed to a variety of complications as they age. These complications include gastrointestinal defects, immune disorders, obesity, sleep apnea, leukemia, spinal problems, heart defects, dementia, and others. Out of these, heart defects can be very life-threatening and may be a probable cause for early surgery during infant stages.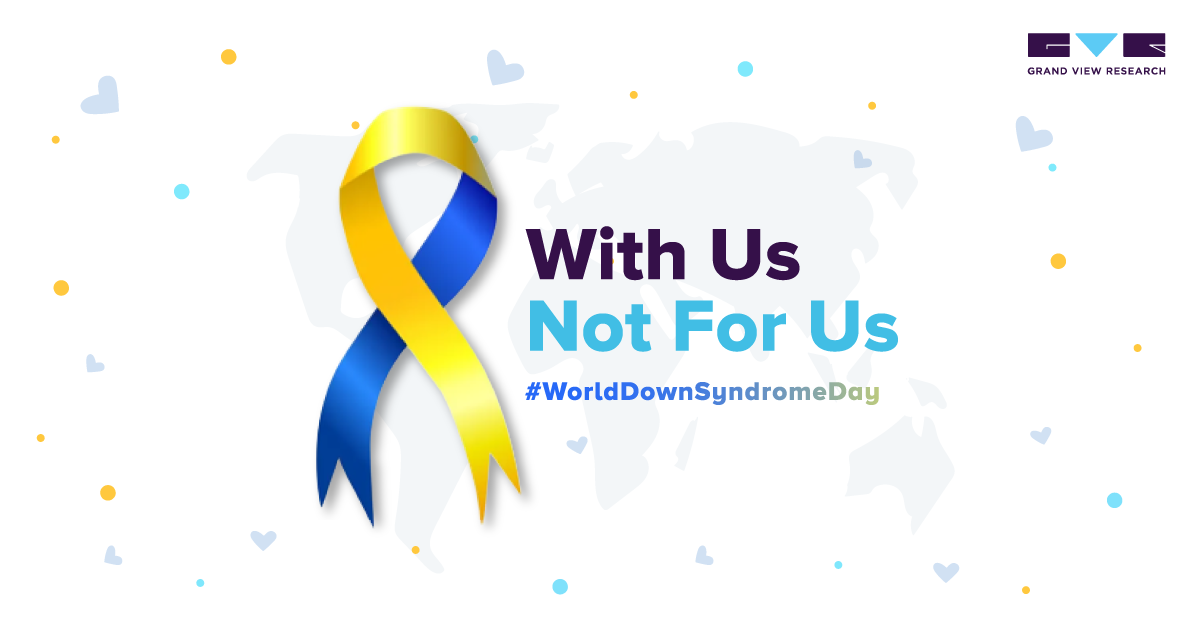 2023 Theme - With Us Not For Us:
On 21st March 2023, World Down Syndrome Day will be celebrated in New York with a campaign, 'With Us Not For Us.'
In social dimensions, this is a message that relays human rights and demands fair and equal treatment as everyone else.
DSi's commitment to shift from a traditional charity model to working towards achieving equality in human rights for people with disabilities is a major focus of the theme.
Despite the freedom to make choices and effectively participate in organizational decision-making as defined by The United Nations.
More often, people with Down Syndrome are looked upon with pity or charity and their supporters often do things for them and not with them
At various corporations and organizational levels, these people are excluded from performing their part of the work and the decisions are taken for them and not with them
DSi has been constantly working with people with down syndrome and not just for them, since its members are organizations of persons with disabilities (OPDs)
Quality of Autistic Lives:
According to United Nations, every year 3000 to 5000 children are born with Down Syndrome at a global scale.
As stated earlier, health complications can be life-threatening and might result in a stagnated quality of life. While most people with Down Syndrome lead a normal independent life. Their environmental, cultural, and social factors play a vital role in determining their success and stability in adulthood.
Also, the quality of life of autistic people can be improved if they are provided with regular health check-ups, periodical counseling followed by monitoring mental and physical health with various parameters, and offering special education to build the potential to lead a normal and independent life.
World Down Syndrome Day is a global event that started in March 2012 based on selecting the 21st Day of the 3rd Month every year to mark the trisomy of chromosome21 that causes Down Syndrome. The significance of this day reminds us that people with disabilities possess the right for their voices to be heard with fair treatment at social levels.