Xylitol is a sugar polyol which is widely used as low calorie sugar alternative. Xylitol has significant contribution in improving preventing health concerns including high blood sugar, obesity, and tooth decay. Low glycemic index and low calorific value of the sugar alternative enable it to act as an ideal low calorie sweetener for people with diabetes, obesity, and other metabolic syndromes. Furthermore, it improves the oral health by inhibiting the growth of plaque forming and cavity causing bacteria. Xylitol is effective in stimulating flow of saliva, preventing demineralization of tooth enamel, and increasing bone density.
Number of diabetes and obesity affected population has increased globally in the past few years. Rising prevalence of these diseases spurred demand for low calorie sugar alternative. Sustainable production and advantageous properties have led to wide acceptance of xylitol as sugar alternative across the globe. Rising consumer preference for low calorie and nutritious food is anticipated to propel demand for xylitol over the next few years.
Global xylitol market revenue, by application, 2015 (%)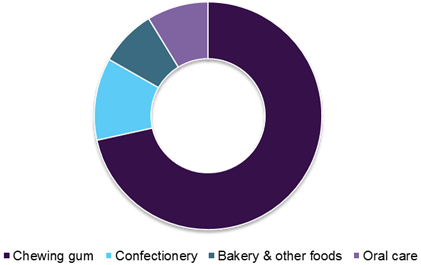 Xylitol is broadly consumed in various applications including chewing gum, confectionery, bakery & other foods, oral care, pharmaceutical, and nutraceutical products. Low calorific value, low glycemic index, tooth decay defying properties, and non-carcinogenic nature of xylitol encouraged its usage in the recent past. Xylitol is consumed as sweetening agent to manufacture chewing gum and various confectionery items including candy, jelly, lozenge, and chocolate. Furthermore, it is applied to prepare healthy bakery items and oral care products. Vitamin supplements, tablet coatings, tonics, and syrup are the other potential applications of xylitol.
Chewing gum accounted to be the largest application of xylitol market. Sugar-free chewing gum appeared to be the most promising segment of the global confectionery market in the recent past owing to rising health concern among consumers. Changing consumer spending pattern coupled with growing preference for sugar-free chewing gum is expected to fuel demand for xylitol over the next few years.
Oral care is expected to appear as a lucrative segment of the global xylitol market over the forecast period. Excellent properties of xylitol to prevent tooth decay and oral cavity are predicted to boost demand for xylitol in various oral care products such as toothpaste, mouth wash, and fluoride tablets.
Asia Pacific is expected to be the fastest growing region in global xylitol market over the next few years on account of rising demand for healthy confectionery and food items. Increased disposable income of consumers coupled with health awareness in this region has played a key role in driving demand for xylitol. Europe accounted to be the second-largest consumer of xylitol followed by North America in the recent past.
The global xylitol market is characterized by the presence of key players such Dupont Danisco, DFI Corporation, Shandong Futaste Co., Ltd., Xylitol Canada, Inc., Zuchem Inc., and Roquette Freres. Major companies are focusing on the development of advanced production technology to reduce the cost and enhanced environmental sustainability.

In-depth report on global xylitol market by Grand View Research:
https://www.grandviewresearch.com/industry-analysis/xylitol-market