Industry Insights
The global acrylic acid market size was 5,750.0 kilo tons in 2014. Growing demand for super absorbent polymers in personal care industry is expected to drive growth over the forecast period. Increasing consumption in surfactants, surface coatings, and adhesives & sealants production is also projected to shape up the industry.
The majority of the acid disposed of is either evaporated into air or is underground strata of soils. When evaporated, they break down into other chemicals, hence posing less threat in terms of air pollution. However, when disposed into underground strata, it doesn't bind with soil and enters groundwater. Groundwater contamination associated with its disposal has been an important issue and has attracted scrutiny from environmental agencies around the world.
Increased regulatory pressure on companies has led to the development of bio-acrylic acid. Major producers such as BASF, Dow Chemicals, Cargill, and Novozyme have invested in developing bio based product at prices competitive with its conventional counterpart. Europe acrylic acid market price saw an uptrend in May 2015, predominantly due to outages. However, overall demand is expected to be stable and hover close to 2014 levels.
OPX Biotechnologies, a bio-based chemicals producer, has successfully developed a low-cost route for bio-acrylic acid through dextrose and sucrose as raw materials. The company claims to achieve prices of USD 1.10 per kg and USD 0.85 per kg using the respective raw materials, compared to its conventional counterpart which was sold at USD 1.20 per kg in 2012. OPX Bio plans to commercialize its bio-based route with an initial capacity of 220 kilo tons per year by 2017.
U.S. acrylic acid market revenue by product, 2012-2022, (USD Million)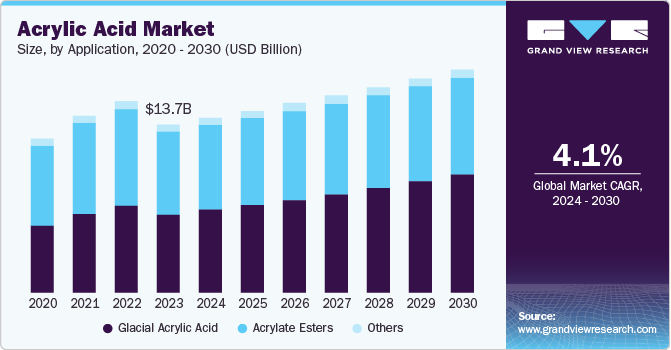 Performance characteristics such as varying degrees of durability, hardness, tackiness and glass transition temperatures are projected to promote its derivative consumption in various end-use applications. Acrylates are witnessing high demand in detergents, dispersants, flocculants and thickeners.
Product Insights
Commercial derivatives include acrylate esters and glacial acrylic acid (GAA) along with alkyl acrylates, dialkylaminoethyl acrylates, hydroxyalkyl acrylates. Acrylate esters were the largest derivative with global consumption estimated at 2,731.2 kilo tons in 2013. Acrylate esters are further segmented into methyl, butyl, ethyl acrylates and 2- ethyl hexyl acrylate (2-EHA).
Acrylates impart several desirable properties to polymers such as clarity, color stability, aging and heat resistance along with excellent weather-ability, leading to higher product demand in coating & adhesives industries.
GAA is widely used in SAP production with its end-uses being hygiene and personal care products. GAA is increasingly being used in polyacrylic acid production. Growing SAP in demand in hygiene and personal care products and GAA consumption are expected to drive the derivate segment growth.
End-Use Insights
On the basis of end-use industries, the global industry is segmented into surfactants & surface coatings, organic chemicals, textiles, water treatment, adhesives and sealants, and personal care products along with rubbers, inks, resins and cosmetics.
Personal care products such as diapers and adult incontinence products are increasingly using super absorbent polymers. Growing demand for super absorbent polymers in these applications is expected to drive demand.
Surfactants & surface coatings are segment is projected to register the highest growth at an estimated CAGR of 6.3% from 2015 to 2022. The segment growth is expected to be driven by increasing coatings demand in automotive, aerospace and paper industries. Other end-use industries such as textiles where acrylic acid based products serve as fillers in padded jackets are also expected to gain market share rapidly.
Regional Insights
Asia Pacific, acrylic acid market, led the global industry with demand share estimated over 48% in 2014. China and India collectively accounted for about 70% of the regional demand for the same year. Increasing derivatives consumption in surfactants, coatings, personal care products and adhesives is expected to drive the regional growth over the forecast period.
Increasing geriatric population in the U.S. and Canada are projected to drive adult incontinence products demand, further leading to increased SAP consumption. Mexico is expected to register high demand owing to rapid growth in various end-use industries such as surfactants, adhesives & sealants, and personal care. Intensive R&D by regional companies to develop bio-based alternative is expected to provide opportunities to the market development.
Competitive Insights
The global acrylic acid market share is moderately concentrated with top four companies Arkema, BASF, Dow Chemical Company and Nippon accounting for just over 45% in 2014. BASF was the market leader with over 12% of the overall share.
The industry has witnessed joint ventures between major companies such as Novozymes and Cargill to develop bio-based counterparts. The joint venture was established in 2008 and is currently working on commercializing their product.