Industry Insights
Increased aircraft movement and passenger & freight traffic have resulted in the construction of new airports and overhaul of the existing ones to modernize them and increase their capacity. Airport expansion and modernization requires the deployment of air traffic control equipment and its sub-systems, which is expected to boost market growth. Replacement of obsolete air traffic control systems is cumbersome as an interruption of air traffic control is not feasible.
Global Air Traffic Control (ATC) equipment market by product, (USD Million), 2012 - 2020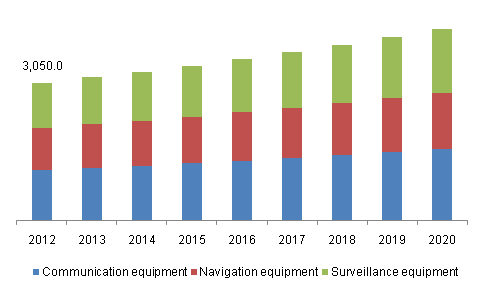 Phasing out old air traffic control equipment is thus a gradual process wherein newly installed systems are operated in parallel with the former. High safety requirements in aircraft and technological advancements in components are expected to augment air traffic control equipment market demand.
High procurement and maintenance cost of air traffic control equipment are expected to hamper air traffic control equipment industry growth. Lack of expertise and efficient operations at peak hours is expected to pose a challenge to market growth. Microelectronics development has provided expansion opportunities for the air traffic control equipment market and is expected to be a key growth domain over the forecast period. Advancements in data-processing capabilities have ensured alteration of data to virtually meet several computational requirements.
Product Insights
The air traffic control equipment market is segregated into communications equipment, navigation equipment, and surveillance equipment. The communication equipment market is expected to account for a significant share throughout the forecast period. The replacement rate of obsolete communications equipment has increased due to the improvement of digital data communication on account of the ubiquitous use of air traffic control systems.
Application Insights
Air traffic control equipment is deployed for commercial, private, and military aircraft. Some air traffic control equipment includes Flight Data Processing System (FDPS) Primary Surveillance Radar (PSR), Radar Data Processing & Display System (RDPDS), Secondary Surveillance Radar (SSR), and Simulator System (SIM). These equipment provide crucial airspace-related information to the pilot, thereby making his/her task easier. Commercial and military aircraft are expected to be high growing markets for air traffic control equipment deployment.
Regional Insights
Europe and North America accounted for a considerable revenue share of the air traffic control equipment market in 2013 due to the increased government efforts for securing air traffic and aircraft. Federal Aviation Administration (FAA), the national aviation authority of the U.S., has collaborated with unions and the aviation industry in the transitioning of air traffic control facilities from Common Automated Radar Terminal System (CARTS) to the Standard Automation Replacement System (STARS). Over 90 new facilities are expected to be deployed from 2014 to 2018 for this purpose. Asia-Pacific is expected to show high growth potential on account of the growing demand for effective and efficient infrastructure.
Competitive Insights
Aquila, a joint venture between NATS and Thales, has been awarded a USD 2.35 billion contract to modernize and operate air traffic control of the UK's military aircraft at bases around the world. In November 2013, Advanced Navigation and Positioning Corporation (ANPC) completed a demonstration flight campaign using their newly installed Transponder Landing System (TLS) at Manaus Brazil. The system was installed in a temporary configuration for demonstrating the quick deployment capability, which was completed in approximately two and a half days. Due to low failure tolerance levels, leading players have emphasized heavily on enhancing the reliability of these systems. Additionally, collision avoidance is expected to receive increased attention to address the growing volume of air traffic. Navigation and landing aids are periodically upgraded for maintaining safety and improving efficiency with which airways and airports are utilized. Key participants in the air traffic control equipment market include Thales Group and Raytheon Company. Searidge Technologies Inc., Northrop Grumman Corp., NavAero Inc., Lockheed Martin Corp., Indra Sistemas SA, Harris Corp., Cobham Plc, and BAE Systems Plc.