"Increasing prevalence of target disease and growing geriatric population is expected to drive the Alzheimer's therapeutics market over the forecast period"
The global Alzheimer's therapeutics market was valued at USD 4.0 billion in 2015 owing to the increasing prevalence and incidence rates of this disease and growing geriatric population base. In 2015, it was estimated that 47 million people were living with Alzheimer's Disease (AD) across the globe. It mostly occurs in the older people who are 65 years and above. Moreover, growing awareness level regarding its symptoms, such as partial dementia, is projected to boost the demand.
The development of new and innovative technologies is expected to contribute to the growth of the overall market. For instance, the development of new cloud-based cognitive assessment systems is expected to propel the growth. These systems help in identification of effects of drugs in patients. Hence, with the help of this system, pharmaceutical companies can evaluate the efficacy and safety of pipeline drugs for the treatment of this disease.
U.S. Alzheimer's therapeutics market, by drug class, 2013 - 2024 (USD Million)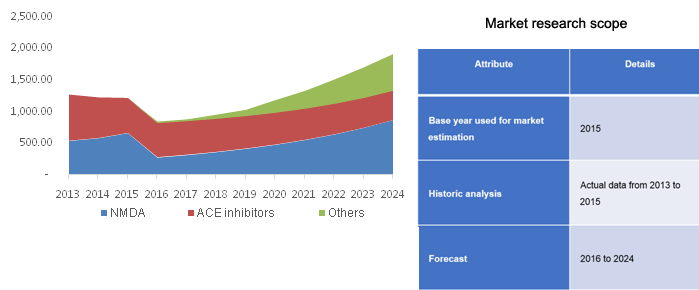 Another technology, CANTAB Connect, was developed by an international technology company, Cambridge Cognition, to observe treatment efficacy in mild and moderate cases of AD during clinical trials.
The presence and development of pipeline drugs, such as LMTX by TauRx Pharmaceuticals Ltd., are expected to have a strong positive impact on the growth of this industry. This drug is currently under Phase 3 clinical trial to evaluate its safety and efficacy in the treatment of mild-to-moderate Alzheimer's disease. The result of the clinical trial is expected to be announced in 2016. Other pipeline drugs include crenezumab by AC Immune SA; verubecestat by Merck. &Co., Inc.; and idalopirdine (Lu AE58054) by Lundbeck A/S, which are in Phase 3 of a clinical trial and are going to be launched over the next 6 years.
The increasing government funding for the Alzheimer's care, support, and research activities is estimated to fuel the growth of this industry. Various organizations involved in this activity include the National Institute of Health (NIH), Alzheimer's Association, and the Florida Department of Health. In 2015, the NIH spent around USD 589 million on research projects for AD.
Recently, a new proposal known as Alzheimer's Combination Therapy Opportunities was introduced in collaboration of Alzheimer's Drug Discovery Foundation, Alzheimer's Association, and Alzheimer's Society UK. This proposal is anticipated to provide this market with growth opportunities. This proposal includes a combination of repositioned or repurposed drugs that have the potential to slow down the progression of AD.
"Cholinesterase inhibitors accounted for the largest revenue share in 2015"
The market is segmented into cholinesterase inhibitors and N-methyl-D-aspartate (NMDA) receptor antagonist on the basis of drug class.
The cholinesterase inhibitors segment held over 48.0% of market share in 2015. The presence of high revenue-generating drugs such as Donepezil, Exelon, and galantamine is a key driver, which can be attributed toward the market share of cholinesterase inhibitors. NMDA drug class held the largest market share owing to increasing revenue from the extended release form of Namenda from 2013.
However, other drugs segment containing monoclonal antibodies and Tau targeting proteins are anticipated to witness a strong growth over the forecast period due to the development of various drugs for the treatment of moderate-to-severe Alzheimer's. Solanezumab, a monoclonal antibody is the anticipated to be key drug providing potential growth.
"North America dominated the Alzheimer's therapeutics market in terms of revenue in 2015"
North America dominated in 2015 with revenue estimated at over USD 1.0 billion as a result of the presence of sophisticated healthcare facilities and infrastructure in developed countries, such as the U.S. Moreover, high purchasing power for expensive drugs and reimbursement policies are the drivers projected to boost the market demand.
Europe is estimated to grow at a rapid pace owing to the high prevalence of AD coupled with ever improving diagnostic capabilities. Asia Pacific is expected to witness the fastest growth over the forecast period owing to the rising disposable income level.
In addition, the high prevalence of the target diseases due to the growing geriatric population base coupled with the weak immune system is attributed to the growth of this industry. In developed economies such as India, Japan, and China there is high potential growth of this sector due to the presence of private partnership projects and government initiatives undertaking various control programs. Latin America and the MEA regions are projected to grow at a significant pace as a result of the initiatives undertaken to prevent the growing incidence of AD. Asia Pacific is estimated to witness CAGR of over 10.0% over the forecast period
"Pipeline drugs by Eli Lilly and Merck are estimated to provide potential market growth"
Some key players of the Alzheimer's therapeutics market are Pfizer, Inc.; Merck & Co. Inc.; Novartis AG; Eisai Co. Ltd., H. Lundbeck A/S, AC Immune; TauRx Pharmaceuticals Ltd.; Actavis plc.; Forest Laboratories; and Teva Pharmaceuticals Industries Ltd. Other prominent players are Janssen Pharmaceutical, GE healthcare, Eli Lilly and Company, DiaGenic ASA, VTV Therapeutics, Hoffman-La Roche Ltd., AstraZeneca, and Daiichi Sankyo Company Ltd.,
In an attempt to enhance market position, the key players are now focusing on new product development, collaborations, and mergers & acquisition. In 2016, AC Immune collaborated with Biogen Idec for the development of protein ligands so as to target the proteins that are involved in the pathogenesis of neurological disorders.
To expand its business, another company named Actavis plc., launched Namzaric, a combination pill of NMDA and cholinesterase inhibitors, in 2015.