Report Overview
The global aminoglycosides market size was valued to be over USD 1.1 billion in 2014 and is expected to witness a growth of over 3.0% CAGR in the coming years owing to rising incidence of bacterial infections caused by gram-positive and gram-negative bacteria. Usage of these drugs in the treatment of different bacterial infections in humans as well as animals owing to presence of characteristics such as bactericidal, concentration-dependent killing action, and activity against staphylococci and certain mycobacteria is expected to influence industry growth.
Moreover, this class of antibiotics is found to be effective even when bacterial inoculum is large, and are frequently used as a second line of defense against basic infection resistant to basic antibacterials. This treatment related application of drugs from this class is an important factor expected to drive growth.
North America aminoglycosides market, by drug, 2012 to 2022 (USD Million)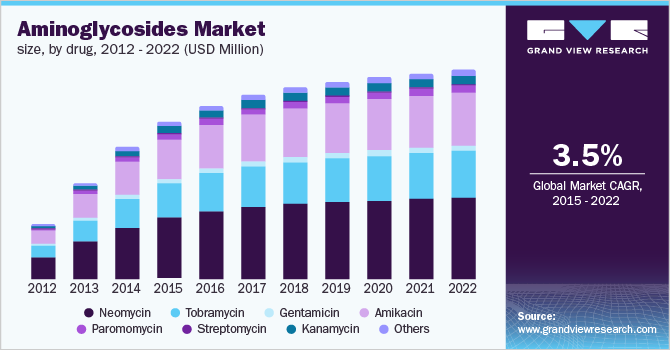 Rising incidence of tuberculosis is expected to fuel demand for aminoglycosides, especially in low-income countries where the incidence is alarmingly high and there is a need for TB drug regimens. Introduction of digital health agenda by WHO and ERS (European Respiratory Society) for eradication of tuberculosis is expected to boost demand.
Additionally, the presence of Global Drug Facility and UNITAID that serve as an intervention for international tuberculosis diagnosis and management is expected to increase drug demand. Presence of yearly procurement requirement by GDF and STOP TB Foundation are anticipated to pose potential in this market owing to rising cases of MDR-TB.
However, toxic effects associated with use of these drugs that include muscle twitching, irreversible hearing loss, and seizure are responsible for restrictive growth in this industry. Other factors that are expected to attribute for restrictive growth include reduction in sale of aminoglycoside antibiotics such as neomycin, streptomycin, and apramycin. Reduction in sales is the result of reduced consumption in production of combinatorial pharmaceuticals which involve usage of intramammary and injectable aminoglycosides.
Product Insights
Neomycin, streptomycin, gentamicin, kanamycin, tobramycin, amikacin, and others are included in the product categorization of aminoglycosides. Streptomycin is a first level antibacterial used for treatment of tuberculosis. Aminoglycosides used in the treatment of MDR-TB include kanamycin capreomycin, and amikacin.
Gentamicin is the agent of choice for major bacterial infections amongst others. Tobramycin has been found to be slightly more effective against Pseudomonas aeruginosa infections. Amikacin and gentamicin find maximum usage in veterinary medicine.
Use of kanamycin in MDR-TB is recommended after failure of capreomycin but before treatment with amikacin However, presence of substitutes such as amikacin is expected to restrain kanamycin demand as amikacin was found to be more effective at critical concentration as compared to capreomycin and kanamycin on testing their efficacies on the wild-type M. tuberculosis. In addition to low minimum inhibitory concentration (MIC) it is also observed that this drug shows comparatively better pharmacodynamic properties and is also tolerable for pediatric patients.
Scanty provision of quality assured active pharmaceutical ingredient and WHO-GMP compliant product for capreomycin and kanamycin is a major factor that leads in failure of pre-qualification of these drug thus restraining sector growth in more developed countries. Vulnerable state of supply for sources of capreomycin and kanamycin approved through WHO prequalification are expected to result into restrictive market growth.
Route of Administration Insights
Administration of aminoglycosides is done by various routes depending upon the type & site of infection and whether the drug is used for a human or non-human patient. These can be administered in the form of feed, injectable (parenteral), intra-mammary, oral, and topical methods. Injectable administration accounted for the largest share, as this route is preferred for human medical usage more because it provides the optimum mode of drug action mechanism through intravenous or intramuscular route for treatment.
Oral use of aminoglycoside antibiotic is usually for bowel surgery in order to prevent infection at the time of surgery. However, poor absorption rate of these antibiotics is attributive towards the route's comparatively lesser share in market revenue.
Owing to the presence of effective activity of aminoglycoside antibiotics against E. coli, Proteus, Pseudomonas, Salmonella, Shigella, Serratia, and Enterobacter in animals, these drugs are of significant use in veterinary medicine in the form of feed for increasing bioavailability of the drug. Majority of the sales of in-feed and in-water aminoglycoside products is carried out in poultry and pig industries.
Application Insights
Depending on usage and type of infection, aminoglycosides' applications are segregated into skin, respiratory, UTI & pelvic diseases, neonatal sepsis, and veterinary uses. Use of aminoglycosides for respiratory infections such as tuberculosis accounted for the maximum share in revenue in 2014 owing to higher incidence of tuberculosis in the developing regions across the globe.
Furthermore, increase in incidences of multi-drug resistant tuberculosis is attributive towards growth in this segment. Rise in funding to the international organizations that are engaged in provision of subsidized tuberculosis treatment is anticipated to enhance demand for second line defense drugs over the forecast period.
However, veterinary usage of aminoglycosides is expected to witness restricted growth through to 2022 as a consequence of reduction in usage in order to prevent side effects and resistance development from food that is produced from animals treated with aminoglycosides.
Regional Insights
Asia Pacific accounted for the largest share of revenue in 2014 that is due to higher incidence rate of multi-drug resistant tuberculosis that needs second line drugs for treatment is attributive towards a larger considerably larger share of kanamycin and capreomycin in the Asia Pacific region along with the significant availability of other aminoglycosides as well.
Furthermore, presence of a number of market entities in economies such as Japan, China and India are attributive towards the high potential for market share in this region over the forecast period. Major suppliers for kanamycin are located in the regions that provide kanamycin to GDF for STOP TB program thereby adding to the revenue in the industry.
Unavailability of aminoglycosides such as kanamycin, streptomycin and dihydrostreptomycin in the U.S. are attributive towards reduce market revenue in this region.
Variations in antibiotic resistance across countries of different regions are responsible, in part, for different volumes, patterns, and revenue generation for aminoglycoside consumption.
Key Companies & Market Share Insights
Key participants of the aminoglycosides market include Kremoint Pharma Pvt. Ltd, Vega Pharma Ltd., Jiangxi Bolai Pharmacy Co., Ltd., Xian Wison Biological Technology Co., Ltd., Hangzhou Uniwise International Co., Ltd., HuvePharma, Yi Chang Veterinary Medicine Factory, Medson Pharmaceuticals, Medico Remedies Pvt. Ltd.
Due to unavailability of manufacturers and suppliers of some aminoglycoside antibiotics, new participants are expected enter the market but lack of regulatory approval is expected to hamper their market entry. Furthermore, associated side effects with the currently available drugs are also expected to encourage manufacturers to shift focus towards production of relatively more viable substitutes.
Frequently Asked Questions About This Report