Industry Insights
The global anesthesia monitoring devices market size was valued at USD 808.7million in 2015. The rising safety awareness amongst the physicians and the soaring volume of surgeries is expected to boost the demand for these devices. For instance, according to the CDC (Centers for Disease Control and Prevention), in 2014, about 51.4 million surgeries were performed in the U.S. Moreover, as per the American Society of Plastic Surgeons (ASPS)there has been a 3.0% rise in the number of plastic surgeries in the United States in 2014 as compared to in 2013.
With the latest surgical procedures in use today, the life expectancy of individuals has extended due to which, the global geriatric population is on the rise; for instance, according to the WHO there would be an approximate two-fold hike in the geriatric population, from 12.0% in 2015 to 22.0% in 2050. This demographic is highly susceptible to chronic disorders and age-related degenerative diseases, which has resulted in the mounting pressure of surgeries. Hence, this growing base of the geriatric population prone to diseases is anticipated to create a demand for continuous perioperative monitoring, which is expected to spur the growth of the anesthesia monitoring devices market.
North America anesthesia monitoring devices market, by product, 2013 - 2024 (USD Million)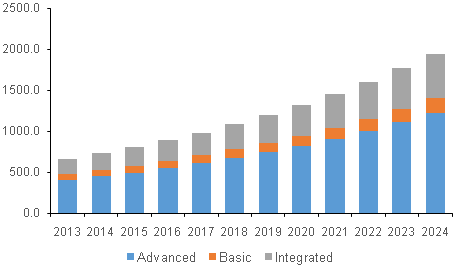 Additionally, the side-effects, such as post-surgery delirium and cognitive disturbance associated with anesthesia, in elderly patients, have raised concerns amongst physicians. These concerns have led to numerous research studies aimed at analyzing the impact of anesthesia administration on geriatric patients.
Technological advancements are anticipated to further propel this industry's growth. For instance, earlier, anesthesia monitoring devices were basic pneumatic machines with discrete units that monitored the vital signs such as heart rate, respiratory rate, blood pressure, body temperature, body movement, and urine volume during preoperative care. However, today, the integrated devices with advanced monitoring capabilities and Decision Support Systems (DSSs)not only monitor much more complex parameters such as transcutaneous oxygen saturation, inhalation anesthetics and end-tidal concentrations of carbon dioxide and oxygen levels but also furnishes data analysis to help clinicians make decisions related to therapeutic interventions.
Product Insights
The market, based on product type, is segmented into four types advanced, basic, integrated, and other devices. The advanced type is further categorized into standalone capnography equipment, depth of anesthesia, anesthesia gas measurement, and others.
In 2015, the advanced anesthesia monitoring devices segment dominated with a revenue share of over 60.0% globally. These devices are more accurate, durable, and reliable in monitoring anesthesia. Moreover, the advanced monitoring devices help in monitoring vital parameters such as oxygen saturation level, carbon dioxide levels, heart rate, and blood pressure, thereby driving the demand over the forecast period.
End-Use Insights
End-use segmentation includes hospitals, ambulatory settings, and others. Hospitals accounted for a significant share of 80.0% in 2015. The availability of advanced infrastructure coupled with the presence of skilled personnel in hospitals contributed towards the lucrative growth of this segment.
The ambulatory settings segment is anticipated to witness a swift growth over the forecast period. The rise in the number of these ambulatory settings contributed to the lucrative growth of this segment. For instance, according to the MedPac analysis, the global number of ambulatory surgery centers increased by 1.9% in 2014 as compared to 2013. These centers fall into the category of Non-Operating Room Anesthesia (NORA) and require technically advanced anesthesia systems as a result of the complex and challenging medical procedures in application. Furthermore, these centers are often preferred over hospitals as they provide a better non-hospital-based outpatient experience and save considerably on patients' time and money.
Regional Insights
The availability of well-developed primary, secondary, and tertiary care hospitals supported the growth in the North America region. Moreover, the well-developed reimbursement network, favorable government funding, and increasing health awareness facilitated the usage of advanced techniques including anesthesia monitoring.
On the other hand, Asia Pacific is anticipated to witness profitable growth over the forecast period. The unmet needs of the huge population base and the developing healthcare network in this region are predicted to push forward the growth in this region. For instance, as per the WHO statistics, around 39.5 million surgeries were performed in China in the year 2012 and this number is anticipated to increase in the coming years, which in turn is estimated to propel the demand for the anesthesia monitoring devices market in perioperative care.
Competitive Market Share Insights
Some key players operating in the anesthesia monitoring devices market include Masimo Corporation, Fukuda Denshi Co. Ltd., Infinium Medical, Inc., Medtronic plc, GE Healthcare, Nihon Kohden Corp., Philips Healthcare, Mindray Medical International Ltd., Drägerwerk AG & Co. KGaA, and Schiller AG
New product development and collaborative developments are some key strategic initiatives taken in this industry to sustain themselves in the competition. For instance, Drager's Innovian Solution Suite automatically collects data from various monitors, ventilators, and other medical devices, which are then consolidated into a single easy-to-operate interface that is easily accessible.