Industry Insights
The global animal feed antioxidants market was valued USD 183.4 million in 2014. Rise in meat production in China, India, and the Middle East due to rising awareness among the consumers regarding protein rich products and easy availability of livestock at a domestic level is expected to play a significant role in the market. One of the key factors driving the market demand for animal feed antioxidants is the increasing concern about the animal health and feed safety.
Antioxidants are used as animal feed additives for various purposes such as to prevent damage to cells, to reduce the singlet oxygen, and others. Majorly, antioxidants are of two types, natural and synthetic product types. These products have the ability for providing oxidation protection to feed by enhancing shelf life along with ensuring safety and quality. Also, these products are capable of protecting nutritional supplements in the feed from deterioration, which majorly include fats, vitamins, and pigments.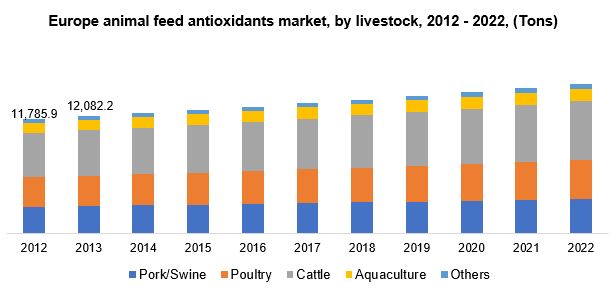 Rising epidemic outbreaks and foot-and-mouth disease have increased concerns over animal health, which affect the food quality. Therefore, these ingredients are attracting more and more attention in both, the finished product and the ingredient markets.
Positive outlook towards agriculture in China, India, and Brazil on account of regulatory support along with improvisation of new irrigation technology at a domestic level is expected to open new opportunities for the market players in future. However, rising demand for oilseeds and corn in food & beverage and biofuels industries is expected to reduce the availability of raw material for the antioxidants production.
Livestock Insights
Poultry dominated the global market accounting for over 19.0 kilotons in 2014, and this trend is expected to continue over the forecast period. Rising consumption of chicken over other meats of bovine and swine species on account of religious acceptance is projected to increase the livestock penetration which in turn augment market growth.
African government, particularly in Nigeria and South Africa, has announced the implementation of the business plan with an aim to promote the poultry farming at a domestic level. The government intervention, thus is expected to increase the market penetration over the forecast period.
Animal feed antioxidants demand in cattle was over 15 kilotons in 2014 and is expected to witness growth in light of rising concerns over disease outbreaks such as BSE in bovine species.
Product Insights
In terms of products, synthetic antioxidants dominated the market contributing over 50% of the global market in 2014. These products are widely used for product stability and longer shelf life, which protects end products or the raw materials. Moreover, availability of antioxidants in abundant quantity and at affordable prices are some of the factors that contribute prominently to the market growth. The market demand for natural antioxidants is witnessing growth due to the increasing need for replacing synthetic antioxidants.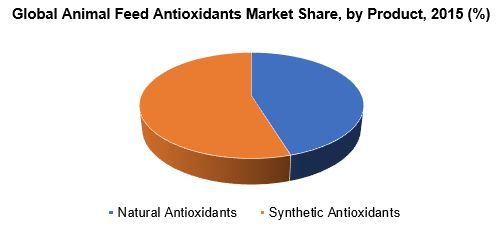 Natural animal feed antioxidants are expected to witness significant gains growing at a CAGR of over 4% from 2015 to 2022. Regulatory inclination towards restricting the application of synthetic chemicals in the feed on account of growing concerns over their hazardous effects is expected to increase the importance of natural products over the forecast period.
Regional Insights
Asia Pacific accounted for the highest demand of over 40% of the global volume share in 2014. Positive outlook towards the production of mutton, chicken, and beef in China and India in light of rising domestic demand is expected to increase the importance of animal feed antioxidants over the forecast period.
North America generated revenue beyond USD 40 million in 2014, and it is expected to remain one of the largest markets over the forecast period. The presence of a robust manufacturing base of meat manufacturers in the U.S., which majorly include JBF, Tyson, Cargill, and National Beef, is expected to result in high demand for these additives. Rising consumption of red meat in Mexico in light of increasing availability of supermarkets meant for delivering frozen foods is expected to have a favorable impact.
The robust manufacturing base of pork meat in European countries such as Germany, France, and Russia is expected to increase the availability of livestock and in turn, will augment industry growth over the next seven years.
Brazil was the fourth largest producer of meat globally, with production estimated at 25,065 kilotons in 2013. Also, increasing demand for meat as a source of protein and expansion of retail food outlets in light of upcoming sports events such as Rio 2016 Summer Olympics are expected to fuel the demand.
Animal Feed Antioxidants Market Share Insights
Major manufacturers include DuPont, BASF, ADM, DSM Nutritional Product, LLC, Novozymes, AB Vista, Zhejiang Medicine Co., Ltd., Adisseo, and Kemin Industries. Shifting preference from synthetic chemicals to bio-based counterparts in light of fluctuating prices of petrochemical feedstock is expected to force manufacturers to increase their expenditure towards the development of natural antioxidants such as tocopherols.