Industry Insights
The global aquaculture market demand was 69,230 kilotons in 2013. It is projected to grow at a CAGR of 2.0% from 2014 to 2020. Aquaculture is the farming process of aquatic organisms such as fish, mollusks, crustaceans and other aquatic flora and fauna species. Farming involves particular interventions in the rearing process such as feeding, regular stocking, protection from predators, etc. to increase production. As per product requirements; fresh, marine and brackish water environments are some available options utilized for aquaculture.
Market segmentation has been done by culture environment, product type, and geography. Key drivers of this market are increasing awareness about various health benefits of seafood and its rising consumption. Shortage of naturally available varieties due to extensive fishing is expected to fuel the market demand for cultured varieties.

Aquaculture market has been witnessing growth in terms of increasing urbanization and increasing the income of individuals which has led to the increase in consumption of protein rich meats. Being a fairly new and unconventional method of fish breeding for consumption, its market acceptance is low. Disease management and feed supply are other challenges faced by this market. Some environmental concerns which should be taken care include water flow considerations, parasites, pollution from effluents, handling escapees and unhealthy culture conditions.
The demand for premium quality products has been increasing not only due to freshness, diversity of products and concern and convenience for food safety but also due to social, ethical and environmental credentials. Rice-fish culture has been considered as the key growing opportunity of this market. This technique is considered a good way for rice and fish cultivations cumulatively since fish get a safe living environment in dense rice plants. In exchange, fish provide protection to rice from insects and circulate oxygen around the farm.
Product Insights
Carp is one of the leading product segments in this market. Carps are cultivated in the fresh water environment and are one of the majorly cultivated aquatic species in this market owing to their compatibility with lesser ideal environmental conditions. Crustacean is a high-value product due to high protein content. This has increased the demand of crustacean to satisfy the requirement of nutritional seafood.
Mackerel is considered as a significant fish food being a rich source of omega-3 fatty acids which is required to balance metabolism. Salmon is considered to be healthy due to its high content of protein, vitamin D, and omega-3 fatty acids. Mollusks have become an important product owing to their high use in rice and fish farming and easy to cultivate. Sea bass and sea bream are a rich source of phosphorous, magnesium, vitamin B6 and selenium; having a low content of calorie and hence preferred by those who choose low-calorie diet.
Shrimp, also known as decapod crustaceans, is a low-calorie food, rich in nutrients, providing various vitamins and minerals such as selenium, which aids in maintaining heart health. Of the total shrimp consumption, over 55% of shrimp is produced through aquaculture. However, shrimp production is responsible for destroying over 38% of the mangroves, which has resulted in environmental damages including erosion, alteration in natural drainage patterns, removal of critical habitats of terrestrial and aquatic species, and increased salt intrusion. The presence of contaminants such as cockroaches, pesticides, and banned chemicals in imported shrimps is anticipated to hamper its consumption.
The increasing number of shrimp farming sites in China is projected to drive the market for aqua culture in the country, followed by India. However, unfavorable weather conditions in economies such as Vietnam and Indonesia are estimated to slow down shrimp farming production in the countries over the coming years.
Culture Environment Insights
Fresh water is one of the leading culture environment segments on account of imitation of freshwater environments in ponds, concrete raceways, and cages. Marine water aquaculture refers to raising marine animals such as salmon, oysters, shrimp, and mussels. Different methods of marine aquaculture include sea ranching, intensive aquaculture, and rack & line farming. Election of these methods depends on the type of shellfish or fish one plans to grow.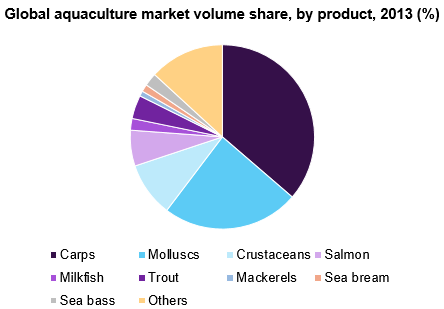 Sea ranching is the process practiced in the native environment to raise the farmed animals. Intensive aquaculture is the most labor intensive form of aquaculture. In this process, animals are farmed in sea cages or pens and feed is provided externally by farmers. Rack & line farming is the process to cultivate juveniles in plastic mesh bags that are hung from lines suspended between plastic and wooden posts in the intertidal region of the seashore.
Regional Insights
China is the leading market for aquaculture and is expected to witness rapid growth due to cheap labor, appropriate climatic conditions, and availability of natural resources in this region. Asia Pacific (excluding China) accounts to be the second largest market and is expected to boost demand for aquaculture owing to technological innovations in this region. Also, development in cultivation as per regional climatic condition is expected to fuel the growth of aquaculture market globally.
Aquaculture industry in North America is projected to witness a significant growth on account of the strong support from both the U.S. and Canadian governments for its expansion. The species substantially contributing to the industry growth include salmonids and mollusks, especially hard clams, oysters, and mussels. Factors challenging the growth of aquaculture industry in the region include the restrictions on effluent discharge and access to freshwater, which can be overcome by emphasizing the production in intensive recirculating systems and offshore water bodies.
The climatic conditions in North America are suitable for the growth of various aquaculture species such as crustaceans and catfish. The intensive farming of these species in the region, specifically in the U.S., is expected to complement the aquaculture market growth. In addition, the rising requirement for seafood owing to increasing population is anticipated to boost the aquaculture industry in the region
Aquaculture Market Share Insights
The demand of aquaculture market is primarily driven by domestic trends in fish consumption. Profitability of individual companies depends on efficient measures considered for the operation and protection of stock fish disease and death.
Big giants have an advantage of the integrated operational process from breeding to packaging. Another factor which may affect the market is export and import policies. This may create an opportunity for one and challenge to some another region due to varying nation wise export-import policies.