Industry Insights
The global armored vehicle market size was estimated at USD 22.2 billion in 2014. Increasing focus to safeguard soldiers from any external and internal threat is anticipated to favor industry growth. The rise in commercial security awareness is expected to increase demand for personnel armored vehicles over the forecast period. Multilateral collaboration between countries such as North Atlantic Treaty Organization (NATO) and the African Union to counter terrorism and maintain peace is also expected to favor revenue generation.
U.S. armored vehicle market by product, 2012 - 2022 (USD Million)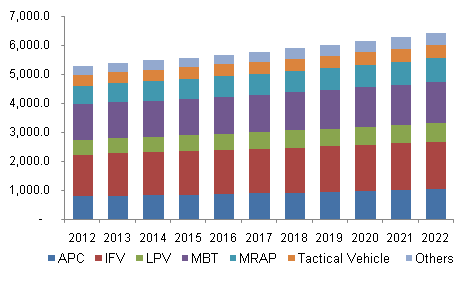 Increasing defense budgets, particularly in Asia Pacific, is anticipated to drive growth. Goodwill of the industry participants is expected to play a key role in contract allotments. Advancements such as increased fuel efficiency and efficient armor material are expected to fuel industry growth over the next seven years. Limited budget for military spending particularly in North America and Europe may pose a challenge to the armored vehicle industry over the forecast period.
Product Insights
Main Battle Tanks (MBT) is expected to be the key product segment, accounting for over 25% of the overall revenue share in 2014.Rising concern to safeguard military personnel is anticipated to drive unmanned ground military carrier demand over the forecast period.
Growing need to protect military personnel from mine attacks is expected to drive mine-resistant ambush protected automobile demand over the next seven years. Tactical military carriers are designed primarily for use by the military in the field in direct connection with combat or tactical operations. Armored Personnel Carrier (APC) are primarily used for safer deployment of infantry to battle fields or high threat areas and it can be distinguished from Infantry Fighting Vehicle (IFV) based on the weapons it carries.
Application Insights
Defense is anticipated to remain the major application segment; it accounted for over 75% of the global revenue in 2014.
Rising concern of government to safeguard soldiers' life at the time of any civil war or riots or internal terrorism is anticipated to drive homeland security applications over the specified period of time. The domain of homeland security is not constrained to just terrorist incidents; it also includes a plethora of situations and scenarios, ranging from natural disasters to acts of terrorism. Commercial applications include VIP close protection, armed convoys and patrols. Additionally, growth of rental & leasing industry is also expected to favor commercial segment over the forecast period.
Regional Insights
North America armored vehicle market is anticipated to show sluggish growth over the forecast period owing to the limited defense budget. The U.S. is anticipated to hold over 80% of the overall North American revenue share in 2014.
Asia Pacific armored vehicle market is expected to show significant growth owing to the government initiative to strengthen its military power to counter internal or external terrorism. The region accounted for over 25% of the global share in 2014. MEA is expected to witness a rise in demand owing to terrorism activity and rising unrest in Iraq.
Competitive Market Share Insights
Key players in the global armored vehicle market include BAE Systems, Elbit Systems, General Dynamics Corporation, INKAS, International Armored Group, Iveco, Krauss-MaffeiWegmann, Lenco Industries, Inc, and Lockheed Martin. Other prominent vendors include Navistar International Corporation, Oshkosh Defense, Rheinmetall Ag, STAT Industry, Textron, Inc., and Thales Group.
Industry player often makes investments in new product development to gain competitive advantage. In 2014, Rheinmetall made a research and development investment of USD 242.28 million across the group. In May 2015, Rheinmetall and PolskaGrupaZbrojeniowa SA and its subsidiary, Obrum signed a cooperative agreement to develop new amphibious 6X6 armed automobile for the Polish military. Elbit System offers component upgrades such as fire control systems, autonomous system, Overhead Remote Controlled Weapon Stations (ORCWS) for better security.
In April 2015, BAE Systems applied active damping system upgrade to CV90 combat automobile which increased its agility by reducing the automobile's pitch acceleration by approximately 40 percent. In December 2014, the company also announced that U.S. Army has awarded armored multi-purpose vehicle contract of worth up to USD 1.2 billion.