Industry Insights
Asia industrial fastener market is anticipated to witness significant growth over the forecast period on account of considerable rise in the automotive industry in emerging markets. Rising motor vehicles demand in light of improving infrastructure and growing disposable income of the middle class is expected to propel demand for nuts, screws, bolts, studs, rivets, nails and washers over the next seven years. In construction, fasteners are widely used in furniture, stairs, roofs, windows and doors. Increasing investment in construction as a result of economic growth and industrialization in emerging markets including China, India, Vietnam, Malaysia, and Thailand is expected to propel fasteners demand. Continuous growth of the Chinese and Indian durable goods manufacturing industries and rising demand for industrial parts for infrastructure is expected to stimulate market demand. Increasing MRO services in Malaysia for airframe maintenance, engine overhaul, and aircraft modifications & conversion is further anticipated to drive market demand over the forecast period
Asia Industrial Fasteners Market, by Application, 2012 - 2020 (USD Million)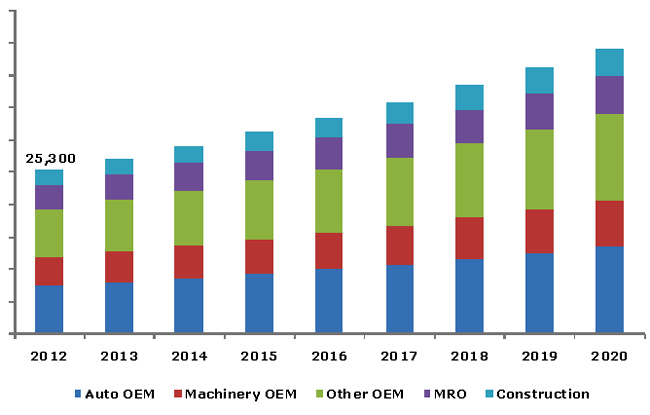 Application Insights
Increasing use of fasteners for manufacturing automotive parts including engine, chassis, molding, suspension system, frame, body assembling and wheels is expected to drive its demand in automotive OEM sector over the projected period. Also, automobile production growth in China and South Korea owing to rising domestic consumption is expected to act as a crucial factor for industrial fastener growth in automotive OEM application. Fasteners demand in machinery OEM is expected grow on account of increasing demand for textile machinery, sugar machinery, cement machinery, rubber, metallurgical equipment and dairy machinery. Rising demand for fasteners in material handling equipment including earthmoving machinery, excavators, and cranes is expected to propel market growth.
Rising importance of preventive maintenance in automotive, energy, electronics and chemical sectors is anticipated to promote the role of MRO. As a result, industrial fasteners are anticipated to witness growth in MRO applications over the forecast period. Rising infrastructure expenditure in China, India and Japan is anticipated to have a positive impact on construction segment in the industrial fasteners market. Increasing focus on the development of sports infrastructure in China is expected to increase the demand for stadiums and sports complexes over the next six years. This, in turn, is anticipated to boost industrial fastener demand in the construction segment.
Product Insights
Aerospace grade fasteners are expected to witness the fastest growth over the next six years owing to increasing government investment in aerospace, infrastructure and defense industry mainly in China, India, South Korea and Malaysia. In addition, growing investments in manufacturing industries in Asian countries is expected to stimulate market growth. Growing need for airframe structures on account of improved mechanical properties including fatigue, corrosion resistance and impact strength is expected to drive market demand for aerospace grade fasteners. Advanced processing techniques and new product developments are expected to open new market avenues for the industrial fastener market in the future. Development of aerospace grade fasteners for railways and solar equipment are expected to serve as growth opportunities for the market over the projected period. Externally threaded fasteners include screws, bolts, pins, lock bolts, axes, tie rods and studs. Externally threaded fasteners have the ability to withstand varying temperature and are therefore employed in the manufacturing engine parts. Hence, the growth of the Asia automobile industry is anticipated to propel externally threaded fastener demand over the projected period.
Country Insights
Growing domestic demand for vehicles due to improving infrastructure conditions coupled with rising disposable income have been key factors responsible for automobile production growth in China. In addition, low manufacturing cost in the country as compared to North America and European countries have forced numerous foreign direct investments in the domestic automotive industry. Therefore, positive automotive industry outlook in China is anticipated to significantly augment industrial fasteners market over the forecast period. Favorable government policies to improve domestic infrastructure is anticipated to have a positive outlook on the construction industry, thereby driving industrial fasteners demand in India. The emergence of Malaysia as a manufacturing hub for oil & gas downstream sector and bio-based chemicals such as oleochemicals is anticipated to increase penetration of equipment for production, which is expected to have a positive impact on industrial fasteners market over the forecast period.
Competitive Insights
Various fastener manufacturers in Asia include Asia Bolts Industries, Micron Precision Screws Ltd., Caparo, Kova Fasteners Pvt. Ltd., Nippon Industrial Fasteners Company, Standard Fasteners Ltd., Peaksight Fasteners, Chao Jing Precise Machine Co., Ltd., Ochiai, Shanghai Fasteners Company, Japan Power Fastening Co., Beijing Jin Zhaobo High Strength Fastener Co., Ltd., Bossard, Avon Industrial Corporation, Sundaram Fasteners, Ranflex Metals, NIFCO and Ekta Industries. Ranflex Metals is engaged in the production of non-ferrous fasteners, which are widely used in marine and commercial applications, for their exceptional wear and corrosion resistance properties. NIFCO introduced unique, functional plastic components such as the world's first small-sized dampers, the push-push latch, and products used in gasoline tanks which are in line with environmental regulations. However, fasteners companies require significant capital investment due to stringent specifications regarding testing and labeling of industrial fasteners, thereby discouraging entry of new players in the market.