Industry Insights
The global automotive catalytic converter market size was valued at USD 111.00 billion in 2014. Technological advancements and increasing automobile production across emerging economies such as China and India are expected to drive the industry growth over the forecast period. Strict emissions-related regulations by governments and authorities worldwide coupled with increasing awareness among automobile users have positively impacted market growth.
North America automotive catalytic converter market revenue by product, 2014 - 2024 (USD Billion)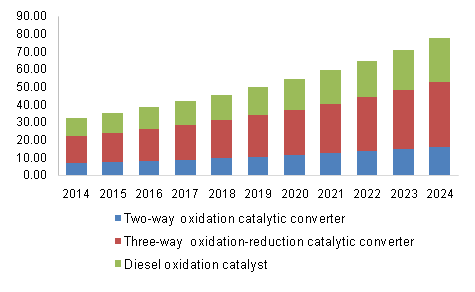 Automotive transportation is the largest single source of air pollution and has elevated to be classified as a global concern. With an increasing number of vehicles on the road, reduction of emission is crucial to have a better air quality. Catalytic converter forms one of the most critical components that are used in every automobile produced, to reduce the toxicity of the emissions in a vehicle by removing harmful substances in the exhaust systems.
Emission standards in the U.S. regulated by the Environmental Protection Agency (EPA) and the EuroV and EuroVI in the European Union strictly define the acceptable limits for automotive exhaust emissions for every vehicle. Parts' manufacturers are setting up their production units and R&D centers in the European countries owing to the vast growth avenues for the industry in the region.
Issues pertaining to high R&D expenditures are expected to hinder market growth over the forecast period. Increased prominence of electric and hybrid vehicles that produce minimal exhaust emissions and do not require the installation of such converters is expected topose a challenge to industry growth.
Product Insights
Based on product, the market has been segmented into two-way oxidation, three-way oxidation-reduction, and diesel oxidation catalyst type catalytic converters. These components are exclusively responsible for the conversion of oxides of nitrogen to nitrogen and oxygen along with the oxidation of un-burnt hydrocarbons and carbon monoxide to carbon dioxide and water.
The three-way oxidation-reduction type catalytic converter is expected to witness significant growth at an estimated CAGR of over 10% from 2016 to 2024. It contributed to over 35% of the global revenue in 2015 and is expected to dominate the industry over the next eight years.
Diesel Oxidation Catalyst (DOC) type is exclusively used for diesel engines across various vehicle segments. Diesel engine exhausts contain particulate matter which contains diesel soot and aerosols such as ash particulates, metallic abrasion particles along with sulfates, and silicates. They are cleaned up by a soot trap or diesel particulate filter in the DOC type converters thus releasing exhausts free of particulates. However, declining acceptance of diesel engine vehicles and rising adoption of petrol, hybrid and EVs has restrained the demand for DOC type converters.
Material Insights
Platinum, palladium, and rhodium are primarily used as catalysts in every catalytic converter type. Platinum acts as a good oxidation catalyst and exhibits a decent amount of resistance to poisons such as sulfur, phosphorus, or lead. However, low activity for the conversion of oxides of nitrogen, sensitivity towards high-temperature conditions and high price compared to palladium has resulted in the substitution of platinum by rhodium and palladium.
Palladium has an excellent activity for the oxidation of hydrocarbons along with very good thermal stability and is currently the cheapest of the three metals. However, its sensitivity towards poisons present in the vehicular emissions restricts its use in such automotive components.
Rhodium dominated the catalyst material segment contributing to more than 40% of the overall revenue in 2015 and is expected to maintain a major share over the forecast period. The metal shows the highest activity towards the removal of oxides of nitrogen from the exhaust emissions has a considerable activity for the oxidation of hydrocarbons and carbon monoxides.
Regional Insights
The presence of major automobile manufacturers has led the European Union to dominate the industry. Increasing demand for premium European car brands such as Volkswagen, BMW, and Mercedes-Benz has led to the growth of automotive ancillaries in the region. The European regional market acquired over 30% of the global industry share in 2015, and is expected to gradually decline over the next decade.
Increasing vehicle penetration driven by the overall improvement in the lifestyle in developing countries from the Asia Pacific region such as India is expected to drive the automobile industry's growth in the region. The surge in automobile manufacturing along with stringent emissions norms is expected to drive the automotive catalytic converter market growth for in the region.
Competitive Market Share Insights
Key industry participants include Faurecia, BASF Catalysts, Eberspaecher, Magneti Marelli and Tenneco. The industry is highly fragmented and is driven by technological and product innovations. Vendors are increasing their product offering for a broad range of automobile assemblers and brands along with the automotive aftermarket segment.
Additionally, adoption of modern ways of distribution such as e-commerce and online catalogs by certain vendors have added value to their product offering and distribution network. Manufacturers are rapidly increasing their regional presence catering to automobile manufacturers across the globe and forming alliances with raw material and technology suppliers as their key growth strategy to make their presence felt in the industry.