Industry Insights
The global automotive sensor market size was estimated at USD 18.68 billion in 2014. Favorable government initiatives for passenger safety and security in various regions are expected to drive revenue growth. These devices have become an essential part of automobiles, which detect parameters such as heat and speed and take precautionary measures in case of danger. Due to advancements in technology, vehicles are being equipped with numerous sensing devices that provide information on different parameters ensuring comfort, safety, and security.
North America automotive sensor revenue by application, 2012 - 2022 (USD Million)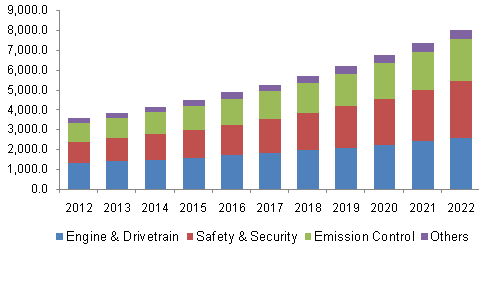 The rise in the number of these devices deployed per vehicle has greatly risen owing to the growing consumer demand for fuel-efficiency and comfort as well as favorable government regulations on safety and emission standards.
The shift towards self-driving cars could significantly boost the automotive sensor market as more intelligent data processing devices are required to make autonomous decisions. For example, self-driving cars by Google use quad-core PCs that process 1.3 million laser measurements and make 20 driving decisions every second. To give computers control over driving, more intelligent sensors are required.
Product Insights
The product segment includes physical property, process variable, proximity & positioning, and chemical property. Physical property devices are used to measure physical parameters such as force, vibration, motion, and speed. The segment is expected to dominate over the forecast period with a revenue share of over 24% in 2014.
The process variable includes pressure, temperature, and flow & level sensing devices. The segment was valued at USD 4.60 billion in 2014 and is expected to grow at a CAGR of 8.2% from 2015 to 2022. Proximity and positioning devices are used for electronic stability control in information display and control.
Chemical property devices measure oxygen, NOx, pH levels, and other gaseous information. Vehicle image-sensing devices have witnessed a sharp growth in the past few years due to growing popularity of Advanced Driver Assistance Systems (ADAS). Examples of ADAS include lane departure warning, adaptive cruise control, and automated parking.
Application Insights
The application segment includes engine & drivetrain, safety & security, and emission control. Emission control devices are used to monitor and regulate combustion temperatures. Government mandates for emission control worldwide are anticipated to contribute to the revenue growth over the forecast period. The Environmental Protection Agency's regulations in 2007 and 2010 dramatically reduced the allowable discharge of diesel particulate matter and fuel nitrogen oxides (NOx).
Safety & security applications accounted for over 24% of overall revenue in 2014 and are expected to grow at a CAGR of 10.4% from 2015 to 2022. Sensing devices used for safety and security applications monitor wheel speed and occupant position tires inflation.
For instance, Jaguar F-type uses these sensors for blind-spot monitoring and close vehicle sensing designed to alert the driver about the presence of another vehicle in an adjacent lane by providing a visual warning indicator in the door's mirror.
These applications are crucial to industry growth owing to increased adoption of features such as TPMS, electronic stability control, rollover detection, and anti-lock brake. The engine and drivetrain segment dominated the global revenue share generating USD 6.66 billion in 2014.
MEMS-based devices exhibit the most promising growth owing to their low costs and their diverse applications range in chassis, body electronics, powertrain, security, and control. They are used to measure inertia, flow, pressure, and other parameters.
Regional Insights
Asia Pacific automotive sensor market was the largest regional segment and is expected to grow at a CAGR of 9.9% from 2015 to 2022. This growth is attributed to the presence of key automobile manufacturers in this region, particularly in China and India.
Asia Pacific was followed by Europe, which accounted for over 22% of the revenue share in 2014. North America also had a considerable revenue share and is expected to grow at a CAGR of 8.6% from 2015 to 2022. This growth is due to favorable legal situations, particularly in the U.S.
The U.S. Federal Motor Carrier Safety Administration (FMCSA) has set out a goal to reduce the number and severity of commercial vehicle crashes by collaborating with the truck industry to facilitate, test, and evaluate the use of onboard safety systems.
Competitive Market Share Insights
Leading players include Robert Bosch, Denso Corporation, Sensata, Freescale Semiconductor, Analog Devices, and Delphi Automotive. Robert Bosch and Denso Corporation dominated the overall automotive sensor market share at over 25% in 2013.
Robert Bosch GmbH, a German multinational company, operates in North America via its subsidiary Robert Bosch LLC. The company has 70 primary locations in the U.S. and is headquartered in Michigan.
Denso Corporation is a Japan-based manufacturer of automotive components. The company has 22 manufacturing facilities in the U.S. and has its U.S. headquarters in Michigan.