Industry Insights
The global automotive textiles market size was USD 23.82 billion in 2015. Automotive textiles are part of technical textiles and are widely used across the automotive industry. The automotive textiles are majorly used for the interior of an automobile.
The global automotive textiles market is projected to witness high growth on account of the rising automobile production particularly in Asian countries such as India, China, Indonesia, and Thailand. In addition, increasing penetration of technical textiles in the automotive industry to cater to high performance applications is also expected to drive the global demand.
Growth in automobile production and favorable safety regulations are expected to drive the growth. Other factors such as rapid urbanization and industrialization in the emerging economies of China and India are also expected to witness significant growth over the next eight years. Such a growing trend in automotive textiles applications offers ample opportunities for industry participants.
R&D initiatives to develop novel as well as superior quality textile products are presumed to have a positive impact on the market growth. On the regulatory front, directives related to safety standards and emission control is anticipated to critically affect the global market.
Numerous passengers' safety related regulations are presumed to fuel the demand for automotive textiles for the production of airbags and seat belts. Euro VI petrol and diesel standard norms that regulate heavy and light vehicles are expected to increase the usage of textile in the automotive filters.
U.S. automotive textiles market revenue by product, 2014 - 2024 (USD Million)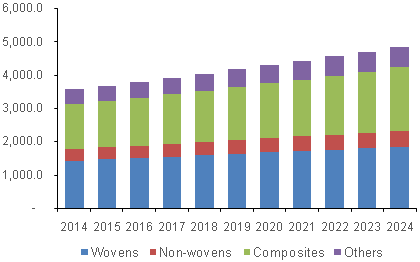 Manufacturers have been taking active steps to improve their product portfolio and develop superior products to cater to the growing demand. Emerging regions such as Asia Pacific and Central & South America offer ample opportunities for the industry participants. R&D initiatives to develop superior quality textile as per the consumers need offer ample opportunities for the existing as well as new industry participants.
Product Insights
Woven type textiles segment had dominated the automotive textiles market with over 45% of the total market in 2015. However, composites sector is expected to be the fastest growing product segment over the forecast period and is expected to grow at an estimated CAGR of 3.9% from 2016 to 2024. Demand from Asia Pacific region is projected to drive the demand for composites type.
Application Insights
In 2015, Upholstery application segment witnessed the highest penetration, accounting for over 54% of the overall automotive textiles demand and is expected to show a similar trend shortly. Safety devices are expected to have the highest growth with CAGR 3.8% in 2024. Growth in automobile production over the forecast period is estimated to contribute to the increased usage of automotive textiles application for the interior parts.
Government initiatives related to drivers and passenger's safety concerns is anticipated to fuel the demand for safety devices application segment. The automotive textiles used in the safety devices application is expected to account about 15% of the overall consumption in 2024.
Regional Insights
Asia Pacific automotive textiles market accounted for over 45% of global demand in 2015. China governed the regional market followed by Japan. China, Australia, Japan, and South East Asian countries are expected to witness fair growth in the automotive textiles consumption over the forecast period.
Europe is projected to hold a significant share in the overall market. The region is supposed to grow at an estimated CAGR of 2.7% from 2016 to 2024. Huge automobile production will contribute to the growth. UK market promises significant growth over the next eight years. Germany and Spain play their respective roles in the regional market.
Competitive Insights
The global automotive textiles market is highly competitive in nature. The leading companies operating in the market are investing in R&D to gain a competitive edge over fellow participants. The companies are investing in research and development to develop better products and gain competitive advantage.
The value chain displays a pretty intricate forward integration with major automotive textiles producers are self-distributing their products. A few major companies have also forged strong relationships with distributors to gain access to the markets.
The key industry participants include Trevira, DuPont, Sage Automotive Interiors, Baltex, Reliance, Auto Textile S.A, Global Safety Textiles, SMS Auto Fabrics, Autoliv, Lear Corporation, Johnson Controls, Acme Mills, Aunde, Borgers, Toyota Boshoku, International Textile Group, Autotech Nonwovens, Suminoe Textile Co. Ltd, ASGLAWO Technofibre and CMI-Enterprises.