Industry Insights
The increasing prevalence of dental disorders clubbed with the introduction of favorable government initiatives pertaining to the dental equipment and consumables markets are some high impacting growth drivers of the bench-top dental autoclaves market. These autoclaves also find application in cosmetic dental procedures, the demand for which is rapidly on the rise especially in the high-income countries of North America and Europe. The rise in demand for cosmetic dental procedures is expected to increase the volume of dental procedures and consequently the demand for bench-top dental autoclaves. The global bench-top dental autoclaves market was valued at USD 43.08 million in 2013.
Global bench-top dental autoclaves market, by product, 2012 - 2020 (USD Million)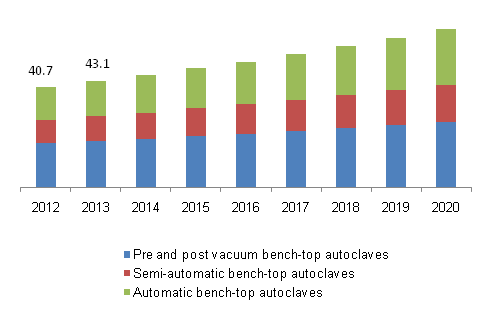 Hospital acquired infections and post procedure infections entail high healthcare expenditures and therefore, pertinent establishments and government organizations are making constant endeavors to promote sterilization as an effective cost curbing tool. Introduction and growing market penetration rates of technologically advanced automatic bench-top autoclaves are also expected to significantly boost market growth during the forecast period. As per the Centers for Disease Control and Prevention (CDC), the U.S., over 61.8% of adults aged 65 and above visited a dentist in 2012 for dental procedures especially bonding, dental fillings, root canals, dental crowns, dental bridges, periodontal treatments, and oral & maxillofacial procedures.
Product Insights
Key products segments of the bench-top dental autoclaves market analyzed in this study include pre and post vacuum, semi automatic, and automatic bench-top dental autoclaves. Pre and post vacuum bench-top dental autoclaves segment claimed dominance in 2013, accounting for over 43.0% of the market. Relatively lower prices and user friendliness associated with these devices are some major factors attributing to its large market share. In addition, high market penetration rates of these devices in the emerging and underdeveloped markets of Africa and Asia are expected to drive market growth during the forecast period. Automatic bench-top dental autoclaves are the most promising segment of this market. Automation reduces human intervention and therefore, eliminates user associated errors and improves efficiency in terms of lesser cycle time and user-friendliness. These factors are expected to encourage healthcare practitioners to shift from using non-automated devices to the automatic ones.
Regional Insights
Bench-top dental autoclaves witnessed the highest usage rates in North America in 2013. Presence of sophisticated healthcare infrastructure, high patient awareness levels coupled with relatively higher healthcare expenditure levels in the region are some high impact rendering drivers of this market. Europe was the second largest consumer of these autoclaves in 2013. Asia Pacific bench-top dental autoclaves market is expected to grow at a lucrative rate of over 7.0% from 2014 to 2020. The presence of large untapped opportunities and improving healthcare infrastructure, consumer purchasing power, and patient awareness levels are some major factors expected to drive regional market growth during the forecast period. Moreover, growing demand for dental tourism in the emerging markets of India and China is expected to trigger an increase in the volume of dental procedures and subsequently boost the demand for bench-top dental autoclaves market.
Competitive Insights
Some major players of the bench-top dental autoclaves market include Tuttnauer, W&H Dentalwerk International, Fona Dental, Melag, Melag, Midmark, and Antonio Matachana. The bench-top dental autoclaves market is price sensitive and therefore, competitors follow similar pricing strategies. Moreover, the presence of product differentiation options coupled with rigorous price based competition and introduction of novel technologies such as double microprocessor and automatic traceability system is expected to keep the industry rivalry at a high level throughout the forecast period. New product development and brand awareness campaigns are two of the most impactful sustainability strategies adopted by market players. For example, In April 2014, W&H Dentalwerk introduced an upgraded version of its Lisa sterilizer in an attempt to reduce sterilization cycle durations and render efficient results.